The Yamaha R1 is one of those rare bikes that non-bikers know about. There is a mystique about it. You should use the best engine oil for a humble YBR125 to a fire-breathing YZF-R1.
The Yamaha R1 model is a sport bike manufactured by Yamaha. Every model of this bike is specially equipped with an in-line four, four-stroke motor. Because of its fantastic drivetrain, it can reach maximum top speed. That's why you should use the best and recommended oil for it. However, owning this bike may make you wonder about the Yamaha R1 oil type. We will discuss its oil type, capacity, and more here. Please stay with us to know.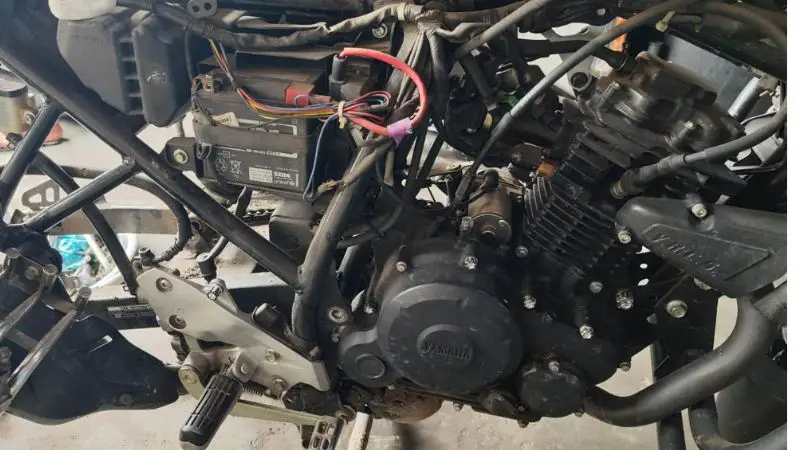 Yamaha R1 Oil Type
The grade of oil is dependent on the operating temperature. Additionally, you should use thicker oil if you live in a warm climate. In a cold environment, you need to go thinner. Manufacturers give a chart in the owner's manual. You can also get it from your Yamaha owner's manual. Under most operating temperatures, you need to use 20w40 grade engine oil. 10w40 is the minimum specification to give your engine an acceptable service life.
But if you use your Yamaha R1 significantly, you'll need Mobil 1 0w40. It's extremely good at protecting the engine for the first few cold miles. Besides this, it is also much better at full temperature than any of those 'G' spec mineral oils.
Mainly, your transmission can wear faster if you don't use the recommended oil in your Yamaha R1. Also, you should pay attention to service quality. Vehicle oils, not JASO MA or MA2 certified, often contain friction modifiers that can create a wet clutch slip. Yamaha R1 oil capacity is 4.2 quarts.
2003 Yamaha R1 Oil Type:
The 2003 Yamaha R1 model is a sport bike manufactured by Yamaha. The dry weight of this bike is 174.0 kg (383.6 lb), and it is equipped with an in-line, four-stroke motor.
When you create a maintenance schedule, it's essential to place the type of oil that you should use. It's because you need to use the right kind of oil to keep your vehicle running smoothly. For a 2003 Yamaha R1, it's recommended to use SAE 10w40 type motor oil.
2005 Yamaha R1 Oil Type:
Accordingly, if you want, you can run any brand oil with 20w40 or 10w40 grades. But every car manual suggests a specific brand of oil. Since the manufacturer cannot say that you have to run our oil, so in the manual, they recommend a particular type of oil. As long as the oil meets these requirements, you should be fine. Nevertheless, it's actually best to follow their suggestion.
You can go for synthetic or mineral as you like most. Synthetic oil will be best. Most oil companies say this is the only oil you can get in the next five years. For your 2003 Yamaha r1, you must use 10w40 grade oil of any brand. You can use Motul, Amsoil, and Mobil oil brands on your Yamaha r1.
2007 Yamaha R1 Oil Type:
For your 2007 Yamaha R1, you can use 10w40 Mobil 1 motorcycle oil. It's because this oil provides extraordinary protection against viscosity loss. Furthermore, it can minimize friction modifiers that contain regular engine oils. Likewise, For your 2007 Yamaha R1 engine, you can use Mobil 1 15W50 Synthetic oil.
Typically, on the bottle, there is no "energy saving" rating on the rating circle. So it will be best for your wet clutch motorcycle. In fact, you also can use 10w40, and it won't damage your clutch. They are optimized for the performance experienced on wet clutch motorcycles.
Yamaha R1 Recommended Engine Oil:
When you purchase your unique Yamaha R1 motorcycle, you can get a recommended oil owner's manual. Usually, Yamaha published JASO MA/MB 10W40 graded recommended oil.
They also provide an alternative viscosity to select the other brand. But your selection should be based on ambient temperatures. People on Quora know less about it than those who built your motorcycle, so you should read the manual.
Notably, if you don't get their owner's manual, you can free download their .pdf. Observing correct oil change intervals is one important thing, just as important as proper oil specification. It is also recommended to use 20w40-graded oil. Ergo, in your Yamaha R1, you can use the same graded famous oil brand. Mobil 1, Castrol, Shell, Motul, and other brands can be used.
Check: 20W40 Vs 10W40 Motorcycle Oil
Yamaha R1 Oil Filter:
Adequately, you can find numerous Yamaha r1 oil filters in the market. Among them, you should choose the best one for your unique motorcycle engine. How can I choose the best one? Basically, every product has its own specifications and features.
Not all products can provide the best services. Only popular brands can give the best services. For example, the K&N oil filter and Flo lifetime reusable oil filter are top-rated oil filter brands. K&N oil filter provides outstanding oil filtration for your Yamaha r1 models.
This oil filter also provides a high oil flow rate during oil filtration. Because of its heavy-duty construction technology, you can get maximum performance without any problem. You can use this K&N oil filter with all synthetic, conventional, and blended motor oil grades.
In contrast, Flo's lifetime reusable oil filter is another famous brand. Generally, this oil filter is made from laser cut, 304 stainless steel micronic filter cloth. So it's a three times better oil filter than a paper or brass filter. Without them, you can choose another brand if you want.
How To Change Yamaha R1 Oil?
To change your Yamaha R1 oil, you need some tools and parts. The tools are:
Ratchet
8mm Allen
Oil filter wrench
Drain pan
Torque wrench
Oil filter
Crush washer
Recommended oil
Step 1.
Position your bike on a bike stand. Place a drain pan under your bike engine. Now remove the oil filter cap from the crankcase.
Step 2.
Remove the 8mm Allen drain bolt and crush the washer and allow the oil to drain completely.
Step 3.
After removing the crush washer, now Install a new crush washer. Then you should reinstall the drain bolt and torque it to 17 ft-lbs.
Step 4.
Remove the left side lower fairing to access the oil filter by removing two 8mm Allen bolts.
Step 5.
With an oil filter wrench, you need to remove the oil filter. After removing this filter, install the new oil filter and torque it to 12 ft-lbs.
Step 6.
Clean any oil accumulated on the exhaust pipe with brake cleaner. In addition, reinstall the left side lower fairing to prevent burning while riding the motorcycle.
Step 7.
Remove the oil fill cap from the crankcase cover. Fill the engine with 4.2 quarts of 15W50 motorcycle oil and reinstall the oil fill cap.
Step 8.
Start your engine and wait a few moments to circulate oil into the machine.
Step 9.
Stop the engine, let it rest for a minute, and check the oil level through the oil sight glass. Ensure the oil level is between the window's middle and top. Top off the oil if needed, and the process is done.
Important note: Oil-changing steps are similar for all Yamaha motorcycle models.
How To Change Yamaha YZF Oil?
Let's discuss changing the Yamaha YZF bike oil within a few easy steps.
Step 1.
First, place your bike on a level bike stand. Then, place a suitable oil catch pan under the stand. The location of the oil drain bolt is just below the bike and above the oil pan.
Step 2.
You can pull out the oil drain bolt with a 12mm socket and 1/2″ drive ratchet wrench by turning it counterclockwise. Drain the oil into the oil container.
Step 3.
Use a ¼" drive ratchet wrench and 8mm socket to remove two bolts on the oil filter cover during the oil drain. To remove these bolts easily, rotate the oil filter cover.
Step 4.
Hold the oil filter cover firmly by pulling the tabs and removing them. Be careful; some oil may leak from the oil filter housing. With the oil filter cover removed, note the position of the oil filter.
Step 5.
Inspect the oil filter for abnormalities, which may indicate serious engine problems. Put the used oil filter in the oil container for full drainage.
Step 6.
Dab your finger in the aged oil and smear it on the filter rubber surface to ensure a proper seal. In general, put a new oil filter in the filter housing.
Step 7.
Replace the oil filter by aligning the bolt holes. And to tighten these two bolts, you need to use a ¼" drive ratchet wrench and an 8mm socket.
Step 8.
Replace the oil drain bolt and remove the oil fill cap. Find out the oil level sight glass. Now pour the oil until the oil level is located within the horizontal line on the oil level sight glass. Replace the oil fill cap. And you are done.
FAQ (Frequently Asked Questions)
Q. Which engine oil is best for the Yamaha R1?
There is a lot of oil available on the market that you can find for your Yamaha R1. But among them, some popular brands provide the best oil for you. Let's know which engine oil is best for your bike:
Stroke 4 racing 10w40
Full Power Jarana 10w40
N-Tech Pro R+ 10w40
Ester Tech Syntec 4+ 10w50, 15w50
Sport 4R 20w40, 15w50
Q. What is the best engine oil grade for a Yamaha R1 2010?
For your Yamaha R1 2010 model, it's best to use 10w40-graded oil. As we know, you need to follow what Yamaha recommends before using any grade of oil.
Q. What kind of oil does a 2007 Yamaha R1 take?
2007 Yamaha R1 motorcycle takes 10W40 Synthetic Metric Motorcycle Oil and 10W30 Synthetic Metric Motorcycle Oil.
Final Word:
There are many motorcycle-specific oils, but which is the Yamaha R1 oil type every owner wants to know? Thus a bike can use any oil that doesn't contain a molybdenum friction modifier. Because these features can slip your bike clutch, if any oil says it has "conserving energy," please don't use this type of oil.
The reason is that it can ruin your engine thoroughly. On the other hand, it's best to use your owner's manual-recommended oil. Nevertheless, we hope you know which oil is best for your Yamaha R1. Please try, and see best of luck.