The very essential element for every car engine is oil filters. It's because they help to keep out drift and grime. For new car owners choosing a reasonable and high-quality oil filter will be challenging.
Though in the market, there are numerous oil filters, among them K&N and Mobil 1 are the most recognized brands. But you may be wondering about K&N oil filters vs. Mobil 1 which brand is best for your vehicle?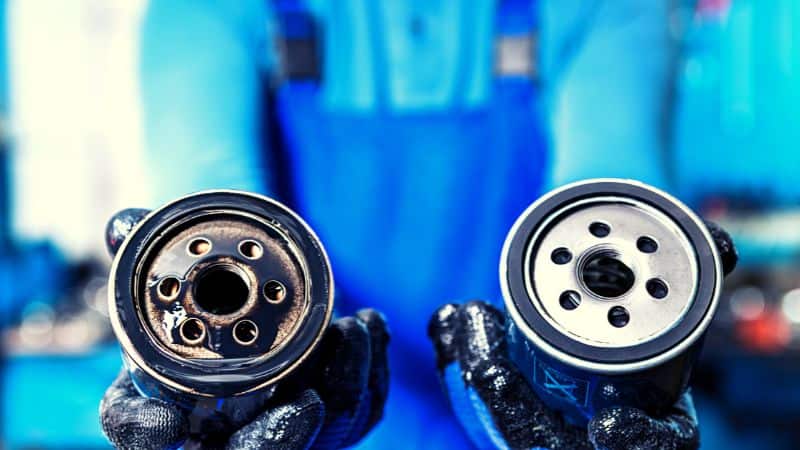 For decades, K&N oil filters and Mobil 1 filters have dominated the vehicle industry. Because of their competitive nature, both oil filters are very popular with everyone. Make sure you waste your hard-earned dollars on the best products. To know which one is best join us in this discussion. It would be interesting to compare these two oil filters. Let's get into it now without further ado.
K&N Select Oil Filter Review
K&N began making products for motorcycles and eventually cars. The company focuses on high-performance automobiles, like race cars and motorcycles.
K&N's oil filter was developed for thicker oil and is tougher than other models, making it better for heavy-duty vehicles. Hence, K&N Select oil filters are engineered to provide amazing filtration and engine protection.
Every filter is specially designed to meet service intervals suggested by car manufacturers & safe by the K&N 1-Year Limited Warranty. Generally, they provide up to 20,000 miles of engine protection.
Moreover, it can capture 99% of pollutants greater than 30 micrometers. If you want you can operate with all conventional oils, synthetic oils, high-mileage, and synthetic blend motor oils. Yet, the pleated synthetic-blend filtration Media decreases dangerous pollutants.
Mobile 1 Oil Filter Review
Mobil 1 filters are the most effective form of protection for your car's engine. It is one of the best processes to remove all impurities from the oil and purify it completely. According to our recent market research, no other filter has been able to match the requirements of Mobil 1.
Undoubtedly, it's the best engine protection on the market. Not only its filtering capacity is outstanding, but it also has remarkable pressure resistance.
The filtering capacity of 28 grams is unmatched. The media's balanced combination of synthetic and fiber makes it one of the most effective filters available.
Your heavy-duty engines are fully protected with it as they can withstand high speeds. and hot oil temperatures. Although the high price may disappoint you, it is not as expensive as you believe.
Instead of a combination of materials, you'll find fully synthetic filtering media in this price range. Mainly, it lacks cable backing, which in some cases is not very stable and sturdy.
Difference Between K&N Oil Filter Vs Mobil 1
Filters manufactured by K&N are named after its founders, "Ken and Norm." Also, their oil flow filters are one of the best oil filters which provide the best reliability on the market today.
Mobil 1 filters provide the ultimate protection against wear and tear for engines. With this filter, you can remove pollutants and purify the oil at its best. So let's compare Mobil 1 extended performance oil filters vs k&n gold oil filters below.
Quick Comparison:
| K&N oil filter | Mobil 1 filter |
| --- | --- |
| Compatible with heavier motor oil            | Compatible with nearly all motor oils |
| Media for filtration is cellulose | Filtration media fiber and synthetic blend |
| Filtration accuracy compared to its competitors | The filtering capacity of this product is superior to its competitors |
| Efficiency is about 85% with 20 micron size. | Efficiency is about 98% with 20 microns. |
| The mileage range is between 7500 to 20,000 | Mileage range between 3000 to 20000 |
| The bypass valve operates at 30 to 45 psi | The bypass valve operates at 22 psi |
| Filters out about 40% of contaminants | 99% of contaminants are filtered out |
| The oil flow rate is high | The oil flow rate is low |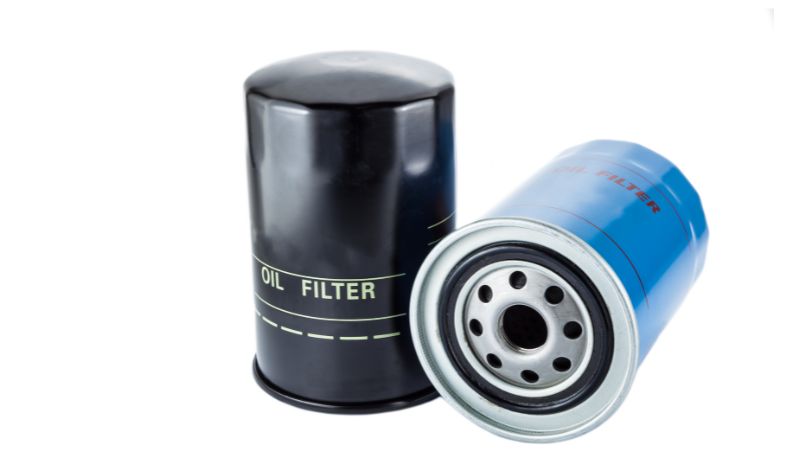 K&N Oil Filter vs. Mobil 1: Specs Comparison
The vehicle industry has been dominated by GM and Ford for decades. Rivals are naturally expected to compete against each other. Before going into details, we would like to discuss both of the product's specifications.
| Specifications  | K&N Oil Filter | Mobil 1 |
| --- | --- | --- |
| Manufacturer | K&N engineering | Mobile 1 |
| Origin Country | USA | USA |
| Dimensions | 4-L x 4-W x 4-H inches | 4-L x 4-W x 4-H inches |
| Item weight: | 9.6 ounces | 4.5 ounces |
| Model | Oil filter | M1-113A |
| Height | 3.75 inches | 4.19 inches |
| Outside diameter | 3 inches | 3 inches |
| Material | Steel | Steel |
| Exterior | Painted | Painted |
Mobile 1 Vs K&N Oil Filter Efficiency
We get information from the K&N website that all K&N filters are tested in a laboratory. That's why it can provide accurate data on their efficiency. The K&N oil filters efficiency rating can vary from product to product, although the average is estimated to be around 85%.
Besides K&N manufacturing heavy-duty oil filters, they also made filters for motorcycles, automobiles, and trucks. Mobil 1 oil filters can filter and retain large amounts of dirt and debris. That's why they are one of the best oil filters on the market today.
Mobil 1 filters come with a balance of microfiber glass and synthetic media. Because these compounds prevent the smallest parts from passing through, engine oil is kept clean. They have 99% efficiency. The grade of Mobil 1 efficiency is calculated on the filter's capacity to remove parts larger than 30 microns.
K&N Oil And Mobil 1 Oil Filter Flow Rate
Flow rate is an important specification when selecting an oil filter. A higher flow rate filter will do an amazing job of filtering your oil. It's best to choose a filter with a flow rate of at least 4 times.
K&N has the highest flow rates on the market. And for that, it's the best oil filter for high-performance engines. According to information on its website, K&N claims a flow rating of 12-16 GPM on its oil filters.
K&N oil filters can flow up to 35% more than other oil filter brands. That means they can filter out more dust, dirt, and other pollutants from your motor oil. In contrast, Mobil 1 also comes with a flow rate, making it the best choice for regular driving.
K&N Oil Filters Pros & Cons
Pros:
Designed for optimum performance
It's a user-friendly product
Improved oil circulation and filtration.
Heavy-duty steel canister.
Cons:
Has a lower efficiency rating – of 85%.
Mobil 1 Pros & Cons
Pros:
Strong and sturdy canister.
Compatible with all types of engine oils
Valid for one year or 20,000 miles
Efficiency rating 99%
Cons:
Slightly more costly than comparable items.
Difference Between K&N Oil Filters: Which K&N oil filter is best?
K&N offers performance oil filters designed for automotive, motorcycle, and heavy-duty applications. Read on to learn what apart from K&N as the industry leader in filtration. Also, find the best K&N oil filter for you. Now we are trying to discuss all K&N oil filters to know which one is the best.
HP Oil Filter:
HP Wrench-Off Oil Filters is a top choice among high-performance car owners and ultra-premium line racers. Particularly, you can find this oil filter in both cartridge and canister styles. From K&N, HP filters are the highest quality oil filters, designed for extraordinary filtration, durable protection, and long-lasting performance.
PS Oil Filter:
On the other hand, PS oil filters are designed for affordable quality oil filters to provide excellent protection at a reasonable price. Typically, it can work with all conventional, synthetic, and blended motor oils.
Its pleated filtration media comes to provide excellent quality performance for everyday drivers. You can get this oil filter in both cartridge and canister oil filter applications.
Magnetized Billet Oil Filters
Accordingly, K&N also provides reusable billet and washable line oil filters. Made from billet aluminum for durability and strength.
The features are magnets and stainless steel mesh to help remove dirt from oil. Most importantly, this oil filter is best for motorcycle and automotive applications.
Mobil 1 Premium Oil Filter Vs Extended Performance:
Mobile 1 premium oil filters use high-quality materials and innovative design in manufacturing has kept the efficiency at 99.6%. It can hold impurities up to 28.0 grams. Furthermore, it can handle dry starts and cold temperatures.
Using synthetic fiber filter media, and premium greased gaskets, Mobil 1 oil filters provide long-lasting performance. This includes compatibility with all types of motor oils.
Extended Performance Oil Filter provides the ultimate protection for your engine. Advanced performance oil filters use synthetic mix media, leaving your car with cleaner oil and engine.
In addition, Extended Performance Oil Filter can provide a full year of guaranteed protection. Although not required, this filter meets the requirements of the Mobil 1 Annual Protection Limited Warranty. And also it provides the proper companion for long-lasting protection.
Fram Vs Mobil 1 Oil Filter:
Fram Oil Filter uses a silicon bypass valve. Likewise, Fram tests the quality and stability of its oil filters with the ISO 4548-12 industry standard.
Media and build quality are good on the FRAM Ultra. Mobil 1 filters have slipped a bit due to too much glue at the seams of the media and wide plate spacing.
While the Ultra has a true synthetic media, the M1 is a mixed cellulose media. And you can get much less common in filters like the TG or PureOne. The M1 filter is paying more for the name than the filtering ability. On the contrary, the Fram Ultra is cheaper so taking it can be the best idea. Mobile 1 oil filter is an amazing choice as well.
K&N SO VS HP Oil Filter:
K&N offers HP oil filters which are the highest quality oil filters. The HP oil filters provide extraordinary filtration durable and long-lasting protection. Besides this, this oil also offers a high flow rate and remarkably efficient filtration.
Ultimately, the K&N SO oil filter also comes at a reasonable price. Adversely, it advertises 20,000 miles of protection and 99% efficiency. When you use this oil filter you also get a high flow rate and efficient filtration. Without any doubt, you can use the K&N brands when you change the oil filter.
FAQ (Frequently Asked Questions):
Q. Is Mobil 1 better than K&N?
Both K&N and Mobil 1 oil filters work well to filter oil. Because K&N oil filters were developed for thicker oils, they naturally perform well in high-performance automobiles. K&N filters are 85% efficient, and Mobil 1 filters are 98% efficient.
Q. Do K&N oil filters make a difference?
K&N filters are rugged and perform better filtration than cheaper units based on many well-thought-out tests. For filtration, we just use a K&N with a hex nut top. It's because this is one of the best filters for an NC Miata.
Q. Are K&N oil filters good quality?
Yes, K&N offers some best oil filters on the market. Their advanced filtration technology keeps the engine protective and healthy for a long time. More importantly,
Adequately, K&N offers premium filtration thanks to the pleated media thick layer. With the enhanced surface area offered by the pleats.
While maximum oil filters use cardboard caps, K&N uses metal caps to protect their filters. Plus, the anti-drawback valve is manufactured silicone temperature-resistant.
Q. What is the best oil filter brand?
There are many oil filter brands in the market. But among them, we have furnished some of the best oil filter brands below. Let's see
Royal Purple Extended life premium oil filter
Mobil 1 Extended performance oil filter
K&N Performance Silver oil filter
BOSCH oil filter
Final Word
K&N oil filters vs. Mobil 1 both brands offer high performance and ensure that the cleanest oil circulates your engine. Even then you should consider some key differences like efficiency, design, and price.
From both oils which one is best for you, it depends on your preference and your needs. Ultimately, if your cars used thicker oil, a K&N oil filter will be best. Alternatively, if you need a versatile oil filter then you will go for Mobil 1. The reason is that it works well with all types of engine oils.