Most dirt bikes and motorcycles can use a similar oil to lubricate the clutch and engine. The oil you choose should exhibit good frictional properties; otherwise, your clutch may slip.
Passenger car/light-truck oils contain friction modifiers because of improved fuel economy. That's why these types of oils are not recommended for wet-clutch applications. Instead of them, you can use JASO MA or JASO MA2 oil. But JASO MA vs. JASO MA2, which oil can I use? Let's compare them.
What Is JASO MA Oil?
This JASO ma oil is a motorcycle oil with wet clutch properties. These oils provide the necessary friction performance to prevent the clutch from slipping. Yet, you can use this oil in 4-stroke motorcycle engines. It's because this engine comes with an oil system for the clutch, motor, and gearbox.
What Is JASO MA2 Engine Oil?
In 2006 T903 standard, Jaso MA2 rating was launched for a modern motorcycle. A JASO MA2 oil is an engine oil that fulfills the JASO MA2 rating.
This specifies a few things – the oil is:
A 4-stroke motorcycle oil
Mainly suitable for wet clutch applications
Acceptable for a motorcycle with a catalytic converter
JASO MA2 Motorcycle Oil comes to provide superior wet clutch friction performance. That means additional grip while the clutch feel is tiny and progressive.
Let's now discuss the JASO classification: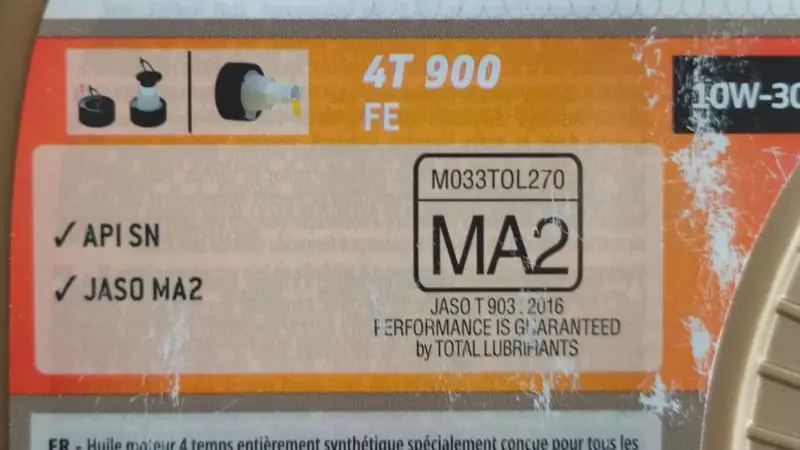 JASO Oils Classifications:
The complete form of JASO is the Japanese Automotive Standards Organization. In 1998 the Japanese Automotive Standards Organization created a grading system for motorcycle oils.
The grading system measures an oil's ability to resist clutch friction, engine wear, and protection against gearbox pitting.
The JASO classification can be confusing; Let's break it down.
JASO MA:
JASO MA is the standard specification for oils used within an oil system. It means the engine, gearbox, and clutch use the same oil. JASO MA oils contain no friction modifiers.
JASO MA1:
This is a lower specification for motorcycles requiring different oils for the clutch, engine, and gearbox.
JASO MA2:
This specification is a high standard for modern bikes. These oils are best for motorcycles that have catalytic converters in their exhaust systems.
JASO MB:
This oil specification is lower and best for scooter engines.
JASO MA Vs. MA2 Motorcycle Oil Certifications: Which Is Better?
The main difference between these two categories is the high friction performance. Since 2006, motor oils that meet the T903:2006 standard for 4-stroke motorcycle oils can be divided into four characteristics.
The JASO MA motorcycle oil standard is the Japanese standard for special oils. It can be used in 4-stroke motorcycle engines with a gearbox and wet clutch system.
JASO MA2 oils provide enhanced friction performance. Depending on the oil manufacturer's application in specific areas, it allows additional performance.
Jaso MA2 offers extra grip memes; the clutch lever can feel a little progressive. Like an off/on lever that some dirt bike riders prefer. For some riders, an MA2 oil will be too "grabby."
The larger V-twin motorcycle's clutch feels slightly different due to the higher rotating mass. An MA2 fluid may give a somewhat more progressive grip feel. Of course, other clutch materials manufacturers use an entire extra variable.
JASO MA vs. MB
In the most basic terms, JASO MA and MB are distinguished by whether or not they are adequate for a wet clutch. In 2006, it was further divided into MA1 and MA2 to differentiate JASO MA lubricants. Jaso MA2 lubricants offer higher friction performance.
JASO MA2 lubricant enables oil marketers to use evolving lubricant and additive technologies for specific performance characteristics.
MB lubricants come with friction modifiers to contribute to excellent fuel economy in automatic transmission (scooter) applications. Choosing the correct additive chemistry for JASO MA and MB oils ensures the performance required in specific applications.
For oil marketers, it's essential to choose proper additive chemistry to ensure performance for each classification. In fact, it's also crucial to communicate these advantages and considerations to end users.
JASO MA lubricants are acceptable for all applications, and MB lubricants can induce clutch slippage on motorcycles. You can use MB lubricants only for scooters. But it could be better to use JASO MA for a scooter.
Best JASO MA 2 Oil:
There is numerous JASO MA2 certification oil on the market. Some best JASO MA2 Oils Are:
Mobil SUPER MOTO 4T MX 10W-30
Motul 3000 Plus 4T 10W-40
Amsoil 20w-50 Synthetic V-Twin Motorcycle Oil
Motul 5000 4T 10w-40 HC
Check: Motul Vs Amsoil
FAQ(Frequently Asked Questions):
Q. Is JASO MA2 better than Ma?
Yes, JASO MA2 oils are formulated to provide superior clutch friction performance. Basically, these are the best oils to use in 4-stroke scooters and motorcycles. Without it, they are mainly designed for wet-clutch applications. But before using engine oil, it's best to notice riding style and preferences.
Q. Can I Use JASO MA2 Instead Of MA?
One of the best oil certifications within the JASO MA standard is JASO MA 2 oil. So you can use MA2 oil instead of MA oil. But you can't use MA oil on motorcycles that use MA2 oil.
Final Word:
Are you looking for the best blog post about Jaso Ma Vs.? Ma2? This blog post is only for you. It's because you can get helpful information about Jaso Ma Vs. Ma2 engine oil beat Jaso MA2 oil and more critical information. From here, you also can know which oil certifications are best for your motorcycle and scooter.
The JASO MA/MA2 specs ensure enough friction to help with shared wet clutch applications. By comparison, most API specs want as little friction as possible to help with ultimate fuel economy requirements—best of luck.
READ ALSO:
What Is the Best 2-Stroke Oil For Dirt Bikes?
Best Motorcycle Wet Clutch Oil