You should use gear oil for the cement mixer to operate in excellent condition. You know this cement mixer is used to mix water, cement, and aggregates to make concrete. You can usually find them on construction sites and different cement-related projects. Besides this, this cement mixer's primary purpose is to create a uniform and proper mixture of aggregates and cement.
So, you need to use the best gear oil on this mixer to make high-quality and suitable concrete for the intended application. However, let's know about some of the best gear oil for cement mixers and more information.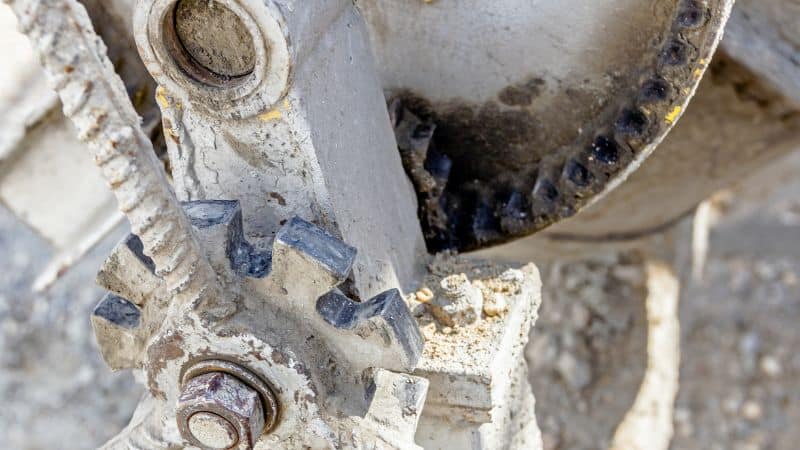 Clement Mixer oil Type:
For the cement mixer, you can use different types of oil. That's why finding proper oil for this cement mixer is very effortless. Cement mixers must also use appropriate oil to work effortlessly like any other engine. But you may wonder what type of oil cement mixer is used. Let's know the cement mixer oil type.
So, for your cement mixer, you can use:
HVI 46 Hydraulic Oil,
Landfill Hydraulic Oil,
Soil Compactor Hydraulic Oil
Concrete Mixer Hydraulic Oil
Differential Oil and Greases
Concrete Mixer equivalent Transmission Fluid
15w40 Engine Oil
80w90 Gearbox Oil
Total Transmission 75w90 synthetic oil
Premier XT- Total Transmission 75w90 Synthetic Oil
Best Gear Oil For Cement Mixer:
Choosing the right components for landfill, compacting, and waste disposal is as important as selecting the best oil. You can find the best gear oil to keep your cement mixer in top working condition. Choosing the best oil is essential because only the best one can provide outstanding efficiency and performance.
Mobil 80w90 Gear Oil:
80W90 gear oil is a multi-viscosity version of the single-viscosity 90 gear oil. It's the same concept as 10w30 motor oil, a multi-viscosity version of a single-viscosity 30-weight motor oil. W" stands for "winter", which means you can use this oil during the winter months and in cold climates.
Nevertheless, this oil is perfect to use in your cement mixer. It can be either GL4 or GL5. But for your cement mixer, we recommend using GL5 because it can tolerate moly-d attack. GL4 is best for older manual transmissions that can't handle moly-d because it has brass. So you can use it for gearboxes where regular maintenance isn't possible.
Silk Gear 220 Synthetic Oil:
SilkGear 220 oil is a uniquely formulated synthetic industrial gear lubricant. The highest-performance artificial ingredients are blended to create gear lubricants designed to work at the forefront of transmission demands. This product is available in various viscosities for all applications, exhibiting outstanding thermal strength in both hot and cold environments.
Strengthened surface film stability and extreme-stress protection additives exhibit the best cushioning anti-wear corrosion and abrasion properties. Yet, Silk Gear 220 is a clear, easy-flowing liquid. Ideally, you should drain all existing gear oil before use because residue can only dilute and reduce performance.
Belle Mixer Gearbox Oil 80w90:
Belle mixer 80w90 is an extreme pressure, high-performance gear oil with high anti-scuff properties. Meeting the harshest demands of hypoid final drive gears. All spiral bevel axles are suitable for use in steering gearboxes where MIL-L-2105D and API GL5 performance are necessary. Nonetheless, the Belle Minimix 150 gearbox oil capacity is 1 litre.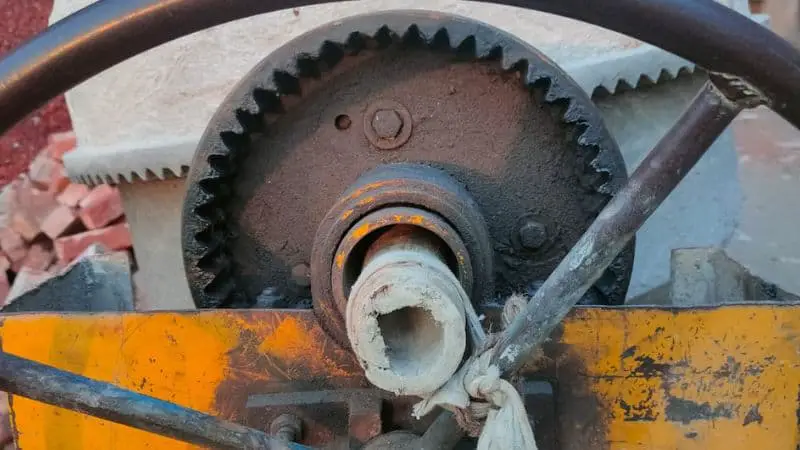 Altrad Belle mini mix 150 Gearbox oil Change Procedure:
You may wonder How to change the oil of the Altrad Belle Minimix 150 Gearbox. Let's know the oil change procedure of the Belle Minimix 150 gearbox below:
First, you will need a 17mm spanner. The level plug is located on the right of the gearbox, where the mixer is shown down as a permanent position.
Now, place a tray underneath to catch any drips from the mixer. So start unscrewing the plug until the oil drains. The mixer begins dripping to drain completely.
When the machine is completely drained, lower the tray to the ground, catching any drips.
Replace the oil with your machine's grade. Machines bought before 2006 will take EP 90 gear oil. Similarly, devices purchased after 2006 will take silk gear 220 synthetic oil.
Tighten and replace the level plug once the mixer is permanently mixing. And you have done the oil change procedure.
FAQ (Frequently Asked Question):
Q. What kind of oil do you use in a cement mixer?
SAE 10W30 is recommended for general use. Other viscosities like 5w30 can be used when the average temperature in your area is within the indicated range. To add motor oil to the engine crankcase, stop the engine and place the mixer on a safe ground level.
Q. How much oil does a cement mixer need?
The gearbox oil level is preset, but make sure the gearbox is cold before removing the filler plug to check the level. The gearbox must be refilled with 8oz 75W90 gear oil (see operator's manual). Properly dispose of used gear oil at a certified collection centre.
Q. Why is my cement mixer leaking oil?
Regarding some mixer gearboxes, there are better ideas than excess oil. You can see leaks on your output shaft if your mixer gearbox is over-lubricated. Many gearbox output shafts come with a grease seal. Due to an over-lubricated gearbox, oil will enter and break the grease, causing oil leakage.
Oil may leak in the mixing process. Following the manufacturer's recommendations regarding oil levels is very important in such cases. More causes of cement mixer leaking oil are below:
Dirt or grit in the seal
Overfilled reducer
Clogged auto vent
Improper mounting position
Final Word:
To conclude, a cement mixer uses a rotating drum to mix the ingredients. For small-volume jobs, portable concrete mixers are often used to make work easier. Ultimately, to properly do this job, the cement mixer needs oil. Though cement mixers use many types of oil, gear oil is the best among them.
That's why you should know which grades are best for your mixer before choosing gear oil for a cement mixer. Eventually, we have given you some of the best gear oil for your cement mixer so that you can choose the right one.