Hydraulic fluid is the lifeblood of industrial machinery and works for different purposes in industrial applications. Moreover, water glycol hydraulic fluid is used in many applications. Water glycol, previously called mineral oils, are fire resistant.
This type of fluid is widely used where fire resistance is required. Water glycol is the best water, ethylene, or diethylene glycol solution. It is thicker and has a more additive package. Water-glycol additives provide extreme wear protection, corrosion resistance, antimicrobial properties, oxidation resistance, and son.
Most importantly, the water glycol fluid is used in industrial areas where they need to work under extreme pressure. Undoubtedly, this fluid type plays an important role in industrial working areas.
What Is Water Glycol Hydraulic Fluid?
Glycol fluid is a type of hydraulic fluid. Previously, it was also known as mineral oil. This type of fluid is designed for fire resistance areas. The ingredients and the elements make the fluid fireproof and work in high-temperature industries.
This fluid was first introduced as a solution to onboard fire problems during World War II. The U.S.A. Navy discovers that mineral oils are not fire resistant. For this reason, they find out this fluid system for their navy department.
Though water glycol fluid discovers by the Navy, the fluid is widely used in the fire resistance section. The industrial areas used the oil widely. Moreover, the fluid is also ready to provide high protection to avoid rust, stain, friction, wear, and tear.
Water Glycol Hydraulic Fluid
Water glycol fluid is a hydraulic fluid mostly known as a fire-resistance fluid on the market. This type of fluid not only provides a fire resistance solution but also provides lots of benefits.
Water-based hydraulic fluid is generally used in steel mills and foundries. Moreover, the manufacturer of this oil was specially designed for the Navy, but after a while, the users also used this fluid in the high-pressured and firing industry.
Undoubtedly, you will discover lots of advantages from water glycol fluid. Try to break down the following benefits to get a clear concept of water glycol fluid.
Benefits of Water Glycol Hydraulic Fluid
According to the manufacturer, water glycol hydraulic fluid provides lots of benefits. Even claim that this fluid type is essential and plays a crucial role in the high-pressure industry and firing working areas.
Safety
Many water glycols are certified by F.M., which is approved for fire resistance. Water glycol hydraulic fluids are also certified by HFC fire resistance. It means that you can use the fluid in the firing industry without facing any risky situations.
Wear Protection
Water glycol comes with a higher viscosity than other water glycol fluids. Its excellent hydrodynamic lubrication provides a wider operating temperature window. These elements and ingredients of the fluid provide extreme wear protection.
Rust & Corrosion Protection
Water glycol fluid comes with several rust and corrosion-free ingredients. For example, this type of fluid used liquid phase rust protection, vapor phase rust protection, and liquid phase. These ingredients protect the engine from rust and corrosion.
Lower Clean-Up Cost
Undoubtedly, water-glycol provides you with lower cleaning costs. It holds the potential for tremendous cost, which saves the clean-up cost.
Water Glycol Hydraulic Fluid Maintenance
Water glycol hydraulic fluid is easy to maintain, and of course, it provides better performance when you maintain the fluid properly. Water contains a W/G fluid which can be lost the evaporation during normal hydraulic operation.
You will maintain the fluid to clean the area of the dipsticks. On the other hand, you need to fill the plugs and hydraulic filters before removing them to check or change the hydraulic fluid. Keep all the water glycol hydraulic fluid on the container tightly sealed so you can store the fluid for a long time.
What Are the 4 Types of Hydraulic Fluid?
There are different types of hydraulic fluids on the market. But some of them are popular and provide top-class performance. Here are the 4 different types of hydraulic fluid list for you so that you can compare each of the fluids and finally make the right choice.
General hydraulic oil
Mineral oils
Water resistance hydraulic oil
Environment-friendly hydraulic oil
These 4 hydraulic fluids are designed for different purposes. For example, water resistance hydraulic oil is designed for Navy and water engine solutions.
Fire Resistance Hydraulic Fluid
Fire resistance hydraulic fluids are used in two different sectors. First of all, fire resistance fluid is used in the industry. Most industrial working areas use high-pressure temperatures and must use fire-resistant hydraulic fluid.
Secondly, this type of fluid is used in the Navy. Because they need to use fire resistance fluid to run the engine. Moreover, the Navy also used fire-resistant hydraulic fluid so that they could protect the engine from wear, tear, friction, and extreme heat.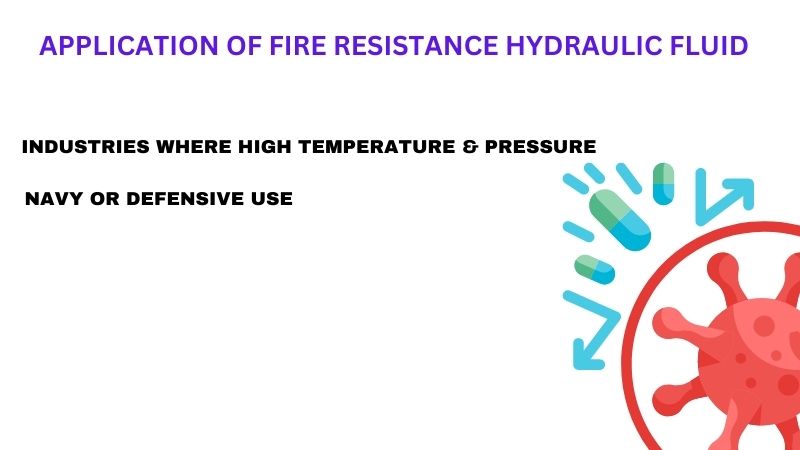 FAQs (Frequently Ask Questions)
Q: What are the components of water glycol hydraulic fluid?
Answer: The water glycol hydraulic fluid generally contains water for fire protection. Moreover, glycol is also used for freeze-point protection. Furthermore, different types of ingredients are also applied to get extreme protection from rust, wear, friction, and others.
Q: What is water glycol used for?
Answer: Most of the time, water-glycol is used for steel and aluminum mills. These two mills need to reduce high-temperature and demands to use fire resistance fluid. They demand fire resistance fluid because these mills produce high-temperature and high pressure.
Q: What are the different types of water-glycol?
Answer: The two different types of water-glycol used are Ethylene Glycol and Propylene Glycol. Ethylene glycol is used for heat transfer. It is significantly less viscous than P.G. Moreover, the water glycol also used other elements and ingredients to provide better performance.
Wrapping Up!
Water glycol hydraulic fluid is truly essential for fire resistance areas. U.S.A. Navy discovered that the mineral oils are not fire resistant, so they discovered this type of oil for using fire resistance areas. This fluid's ingredients and elements provide extreme protection and work in high-pressure or high-temperature areas.
RELATED POST: