You may struggle with the question, silicone oil vs. grease: what's the difference? Don't worry! We are coming here for you. Although both are suitable for lubrication, silicone oil and grease have different uses and properties. Knowing these differences is crucial to choosing the right product.
Only the right product can protect and maximize your equipment and tools. The grease exhibits incredible adhesion to metal and is suitable for lubricating metal to metal surfaces.
On the other hand, you can use silicone lubricants on different surfaces. However, read on the main differences and more information about these products.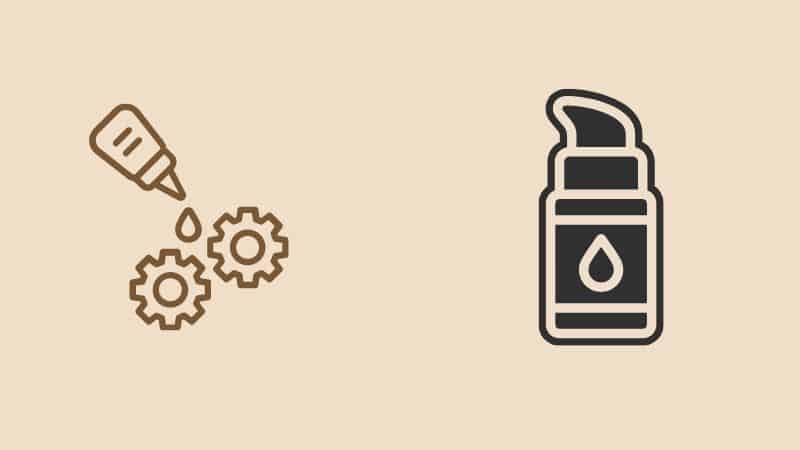 What is Silicone Oil?
Silicone oil is the same as traditional hydrocarbon oil, but its molecular chain can replace carbon units with siloxane units. This oil is a non-toxic, non-flammable, odorless, and tasteless material. It is extensively used by various industries, including medical facilities and laboratories.
In addition, this oil's food-grade versions are used by breweries and restaurants. Pharmaceutical companies also add this oil to some medicines.
Subsequently, silicone oils are compounds of linear polysiloxane arranged in spiral chains that easily slip and slide over each other. Silicone oils also provide excellent thermal stability at extreme temperatures and a flowable and flexible form.
Polydimethylsiloxane is the primary silicone polymer made. But you can add other organic compounds to this siloxane polymer to impart unique properties or reactions in some cases.
What Is Grease?
Grease is one kind of thick oily substance customarily utilized as a lubricant. Generally, it consists of a synthetic oil held in place by a thickening agent gel structure. It generally consists of these three components, and it can keep it in a semi-solid state:
Thickener – 5% to 20%
Additives – 0% to 10%
Base oil – 80% to 95%
All these three elements have different applications. Thickeners are soaps, and they can decrease friction between moving places. Hence, it holds oil in reserve until lubrication is needed. It is triggered to leave oil when exposed to vibration, movement, or temperature changes.
Additives complement the lubricating base oil ability – increasing its ability to save from rust and wear. It comes with a high viscosity to start with, but when stress or shear is used, its thickness decreases and becomes oily. Effectively similar thickness as its base components.
What Is Silicone Oil Used For?
Eventually, silicone oil is suitable to substitute for the vitreous liquid during most eye treatments and operations. It's because no other substance can match the purity of this silicone oil. Besides this, most antiflatulent medicines comprise this particular oil.
Moreover, it can decrease the gas formed unexpectedly in the human digestion system. Furthermore, this oil is suitable for making skin creams and ointments. Since it's a water repellant,
Correspondingly, you can use it in ointments and skin creams. Since silicone oil is a water inhibitor, it creates a protective layer over the skin, preventing the skin from drying out. On the contrary, it allows your skin to breathe.
Silicone oil-based creams, because of their transcutaneous permeability, are efficient in giving relief against dermatitis and burns. Similarly, it also provides the benefits of anti-clotting.
What Is Grease Used For?
Grease can protect your machine from entering the water and gives rust protection. And it also can help to reduce abrasion experienced by the engine. Likewise, it comes with high viscosity and is a good option for applications where fluid lubricants won't stay in place. That means oil and grease aren't interchangeable.
Thanks to its water resistance, it can work as a sealant and is commonly suitable to use in the automotive industry. Any tools or machinery use this grease in maximum pressure, high temperatures, and shock loads. The reason is that oil offers a dense film cushion.
Read About : Calcium Complex Grease
Silicone Oil Vs. Grease: What's the Difference?
When comparing silicone oil vs. grease, it's crucial to consider their formulaic differences and uses. You might be wondering what on earth grease is. Around the world, it's actually one of the most popular lubricating formulas, and with multi-function properties.
It is heat and water resistant, protecting metal from rust and corrosion. Furthermore, it can work at extreme temperatures of up to 150° C. White lithium grease exhibits excellent adhesion to metal and is suitable for lubricating metal to metal surfaces.
In contrast, you can use silicone oil for a variety of applications. Accordingly, rubber can work perfectly. But it's beneficial on surfaces made from metal, wood, plastic, and other components.
Yet, it also helps prevent surface corrosion and rust as its waterproof formula wicks away moisture from the surface. Still, it's a very effective lubricant. Remarkably, it can avoid stickiness and friction in the area where you apply it.
Nonetheless, it removes dirt, grime, and dust and ensures that surfaces are maintained and protected long term.
Silicone Grease Vs. Lithium Grease
Lithium grease has a petroleum base. Please don't use it on plastic or rubber because it can break down that element and cause it to fail. Instead, it will help if you use it to lubricate metal surfaces such as garage door openings and hinges.
On the other hand, silicone greases do well for low-temperature/low-pressure treatments for plastics and rubber. Many people use it in sliding doors, windows, and plumbing applications. Unlike lithium grease, you can use this silicone in various applications.
Important Information About Silicone Grease:
Here below, we give more information about silicone grease. Let's go to know:
Silicone Grease Specifications
From SSP, silicone greases will meet your proper specifications for extremely low to high-temperatures resistance. These grease lubricating compounds offer water wash resistance without harmful, flammable petrochemicals.
SSP's silicone greases are ideal to use in the assembly line and delivered in user-friendly containers. Therefore, this grease supports reliable electrical connections in all atmospheres. Applications for SSP's heat-conducting lubricants include heat sinks, thermocouple wells, and machinery.
What is Silicone Grease Used For?
Regardless, silicone grease is commonly suitable for preserving and lubricating rubber parts like O-rings without softening the rubber. But it's prohibited for silicone rubber for these reasons. Notably, in non-metal-metal contact areas, it works well as an erosion inhibitor.
Consequently, it is soluble in organic solvents like xylene, toluene, chlorinated hydrocarbons, and mineral spirits. Alternatively, silicone grease is insoluble in water, ethanol, and methanol. Pure silicone grease is extensively suitable for industrial plumbing seals and faucets.
Electric utilities use it to lubricate split elbows on lines that endure high temperatures. Typically, it has a temperature range of −40 to 200 °C (−40 to 392 °F), and some high-temperature expand slightly in this range.
Silicone Grease Spray
The silicone spray is composed of silicone grease, a water resistance grease created using a combination of a thickener and silicone oil. Thus, it differs from lubricants made with synthetic or petroleum oils and thickened with soap. Silicone greases are helpful as industrial grease. The reason is that they can tolerate temperatures ranging from -40 to 390°F under different load and stress conditions.
They are dependable for electrical connections and free and water resistant from harmful petrochemicals. The most commonly used silicone oil is polydimethylsiloxane (PDMS), and the condensed silica used is amorphous fumed silica. The ingredients may vary depending on the industry and their use in it.
Silicone Grease Spray Applications
Our silicone spray-derived grease is used in many industries to lubricate and preserve rubber parts. Hence, it performs well in all situations requiring a thick lubricant resistant to corrosion and rust.
Meanwhile, it's more remarkable as a separator between two parts than as only a lubricator. Besides, this grease spray is popular for plumbing and dental tools.
Silicone grease sprays are used in the electrical industry when high temperatures are involved because they can withstand them. In fact, it is also suitable for the electrical industry because it can tolerate high temperatures.
The chemical industry needs to be a laboratory glassware laboratory and interconnect lubricants. Silicone sprays are cheap and easy to find, which is why you see them used in everyday products like children's toys.
White Lithium Grease Vs. Regular Grease
The main difference between them is that standard grease is for industrial settings, and lithium grease in domestic settings. The main reason for this is that regular oils can withstand high pressures and temperatures. No one wants one's lubricant to turn into a greased lightning fire, which would be encountered at the industrial level.
Unfortunately, industrial greases usually come from different industries. So when it comes to using it, please don't go over your head hoping to use it on all your employees. On the other side, lithium grease outlasts industrial greases, unable to cope with severe pressure and high-heat applications.
Final Word
To sum up, silicone oil vs. grease are both essential for machinery. Above all, if your job involves metal-on-metal surface lubrication and possibly extreme weather conditions, reach for WD-40's Grease. Alternatively, you can choose WD-40's silicone oil if you have a surface made of rubber, wood, plastic, or most other materials.
All these materials need protection from oiling, moisture, dirt, and dust or prevent sticking or clogging. Regardless, if you want a different or more specialized product, you can follow the other formulas in WD-40's Expert range.