Grease is a highly viscous semi-solid lubricant that is used to reduce friction, wear, or temperature. Greases are generally made from synthetic or mineral base oil with thickener and different types of additives. For different kinds of applications, different types of greases are needed for the specific application. Here we will discuss the special types of grease for Hydraulic application.
Hydraulic Grease
Hydraulic grease is a non-compressible fluid and needs to transfer power within hydraulic tools and machinery. Sometimes hydraulic grease would work as hydraulic Fluid, which is generally based on synthetic and mineral. This grease is very different from other grease and Fluid.
Many hydraulics greases are based on the hydraulics division into hydrostatics and hydrodynamics. Firstly, this hydraulic grease is known as power-transmission grease for hydrodynamic applications.
Nevertheless, though its vital role is to transfer power, it can also act as a sealant, coolant, or oil within the tools and machinery. However, just read on and get some crucial information about this topic.
Purpose of Hydraulic Grease:
Generally, grease is applied where normal lubricants would fail to give proper function. For example, there is some lube point in the Hydraulic system such as a type where no liquid oil can be applied for its viscosity and dropping properties, in this case, the only option is high-viscosity hydraulic grease. There is also some hydraulic system that operates under where very high temperature or pressure, in these circumstances hydraulic grease is the only option for the best lubrication.
What Is Hydraulic Grease Used For?
You can use hydraulic grease in various applications and many ways in most industries. To provide you insight about utilizes and why this Fluid hydraulic essential in every sector are as follows:
For proper maintenance of the Hydraulic Cylinder rod, this grease is very necessary. You have to check & greasing the cylinder to get optimum results from the hydraulic cylinder.
Hydraulics is vital in automobiles like automotive lifts, car jacks, etc. Because of making power generate, hydraulic jack oil or grease is necessary.
The hydraulic system within the stackers and trucks can help lift heavy goods easily because of hydraulic systems. Actually, because of hydraulic Fluid, this system is possible.
This is a mower, and it works in cemeteries and restrictive grassy places. Again, for power, all of the hydraulic motor's part needs hydraulics.
Hydraulic Fluid is the best winter plow tool that is important in all potential operations, whether tilting, lifting, or moving. The antifreeze properties of hydraulics assist it comfortably performing that only can this grease.
Generally speaking, in the aviation industries every circumstance, hydraulic Fluid is always reliable and valuable. Additionally, hydraulic Fluid is best as aviation oil in control systems, jacks, and controls for aircraft and hanger doors.
Tractors and Cruise Ships:
A dedicated hydraulic fluid only works for tractors because we know tractors always work under challenging conditions. On the other hand, these fluids are essential in operating heavy tools and transporting goods on ships.
In the marine industry, these hydraulic fluids play a significant role. It's because they carry heavy machinery and tools, and thanks to this hydraulics, all of this is possible only for hydraulic grease.
Read About Marine Engine Oil
Some Important Information relating to Hydraulic grease:
Here is some vital information about hydraulic grease. So, don't go anywhere; just read on:
Hydraulic Grease Pump:
In a word, it is the solution of the compact design run by hydraulics with spring return. Notably, it operates with grease 000 ~ 2 NLGI with a 100~300 hydraulic pressure.
The instant flow rate adjustment and cartridge replacement are easy and quick. Creating it ready for application saves time and develops the machine's operation.
The hydraulic grease pump machinery and the hydraulic circuits can energy the pump. A combination divider can give the correct amount of grease to many points.
Hydraulic Grease Pump Application:
This hydraulic pump is perfect for installing all kinds of earth-moving and agricultural machinery.
Hydraulic Grease Gun:
Eventually, a hydraulic grease gun is essential for high-pressure applications. Advantages contain operating comfort and smooth proficiency. You can use this hydraulic gun in any position and manufacture it in a long-lasting, precise, and rugged way. Indeed, this gun is amenable to pumping fluids and amounts measured.
Besides this, it's best to utilize hot oil, offshore, steam, and hot compressed gas in extreme temperatures. Extremely viscous greases, packing, sealants, and cleaners can pump with comfort. Dualco hydraulic grease gun is very popular for hydraulic grease application specially for high-pressure conditions. The dualco mini grease gun is very popular for smooth output & handy to use. If you think about the hydraulic grease gun price, I will say no worries. Most of the mini hydraulic grease guns priced is within 3-5 USD. But some special Dualco Hydraulic Grease gun price is 30-45 USD.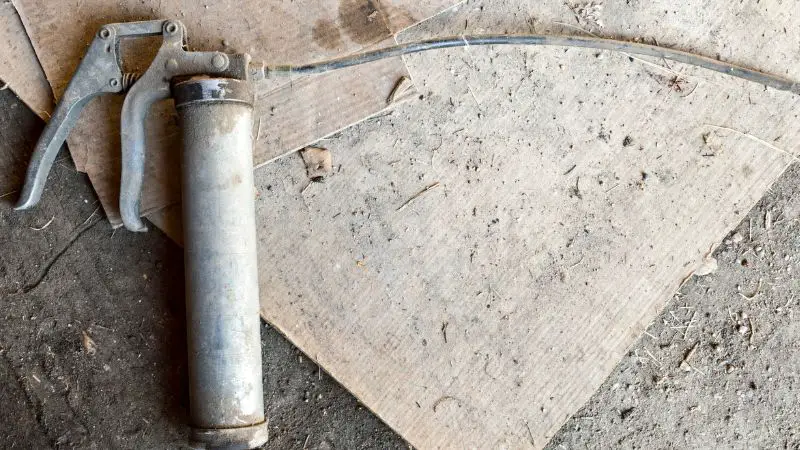 Grease for Hydraulic Seal:
If you operate any size of machinery or tools, you have grease points that need to be maintained. Like this, for your hydraulic seal grease is essential. However, grease is a semi-solid-lubricant so it works well on your hydraulic seals. If you can use the right types of great on your hydraulic seals it supports the trouble-free operation. On the other hand, if neglected, grease can be the reason for all kinds of problems. We know, that hydraulic seals work to protect systems to leverage exchange movement. Moreover, it can save your machinery from leakage and damage. That's why a wrong decision is not only a waste of your money but also can be dangerous for you. Even so, hydraulic seals can endure rugged environments, relying on a multi-part component with integral rings. Furthermore, hydraulic seals can obstruct the oils and leakage loss from systems. If anytime seals are shrinking or hardening, they can lose their elasticity and crack.
This can be the reason for fluid degradation and high operating fluid temperatures. Nevertheless, seals can be shrinkage or swell or chemical attack if you use awkward hydraulic fluids.
Hydraulic Cylinder Grease:
A hydraulic cylinder is one of the essential things that is needed for every place. We can't delete it from our life, and this hydraulic cylinder is one of four types of equipment for hydraulic systems. Hydraulic Fluid is essential to move power from a machine to an actuator: Most typically, a hydraulic cylinder.
In particular, hydraulic grease doubles as a sealant and lubricant to prevent pollution from the hydraulic cylinder. Hydraulic grease can remove hydraulic cylinder failure causes quickly.
And the cause is that this grease contains higher density and thickness. Even so, it can be an excellent choice for stick lubrication. Yet, this hydraulic cylinder grease can burn at high temperatures and is always messy to use.
Hydraulic Grease Contents:
Hydraulic Fluid is manufactured in various components, with one base grease. You can mix any oil if you want for these ingredients.
To summarize, the main ingredients of hydraulic liquids are:
Mineral oil
Ethers
Glycol
Silicon
Esters
Some other chemicals
Mixers will mix with other additives for varied applications to give the grease other properties.
Hydraulic Fluid Properties:
Hydraulic fluids are crucial in industrial and other applications.
You can follow this below summary:
Anti-corrosion properties
Non-compressible
Thermally stable
Cost-Effective
Longevity
Water-resistant
Anti-wearing properties
All of these are essential characteristics of hydraulic fluids. Above all, you can get many available hydraulic oils on the market such as hlp 46 hydraulic oil, hydraulic oil 68. or different types of hydraulic greases. In reality, you must select unique supplier products when selecting hydraulic oils.
Hydraulic Oil Additives:
Adequately, it would help to choose extra additives fluids for your machine to get better performance from hydraulic fluids. Some hydraulic additives we have given below:
The Fluid of cold flow additives can enable your machinery components and operations under harsh cold weather temperatures.
Anti-foaming additives are also can control the oil foaming limit. Ergo, its additive can fix the problem of machinery and tools.
Anti-oxidant can help to prevent sludge information.
Grades Of Hydraulic Oil:
You can choose many types of hydraulic grease grades out of there and choose any that you want. They are usually determined by weight and oil viscosity.
There are two types of primary hydraulic fluids: L-HV and L-HM. Now we are trying to explain these two types of hydraulic fluids below:
HM hydraulic oil grade provides an anti-foaming, anti-rust, and anti-wear performance.
Hydraulic Fluid also gives anti-corrosion, and anti-wear performance, with a density index, utilized for hydraulic circuits.
Final Word:
On the other hand, this is the content where we have explained hydraulic grease and its detailed information. We hope you can get the accurate information that you want. Mainly, from different types of hydraulic fluids, you don't choose what types are best for you.
An expert says to check the oil standard before buying. This is advisable to purchase hydraulic grease from trustworthy and authentic suppliers. Usually, we trust in maintaining the standard of products.
That's why we know what the buyers are looking for. Keep in touch because we only provide you with the best hydraulic fluids.