Have lots of used motor oil after changing your oil from your car? And think, what to do with this used oil? Don't worry; you can use this used motor oil on the trailer deck. Used motor oil has been trendy for decades as a preservative and stain.
No one wants to spend extra money on preservatives when they have the best option nearby. Besides this, used motor oil can stick to trailer decks, wood fences, and furniture perfectly. However, treating wood with used motor oil raises several questions, including whether you can and should do it. Let's know what's the truth: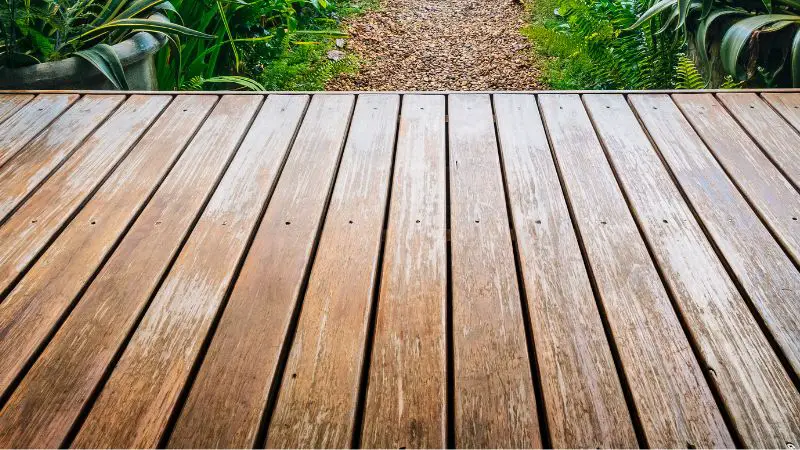 Why It's Important To Flatbed Trailer Deck Coating?
Any outdoor wood surface trailer deck needs a sealant to protect it from moisture. Wood absorbs water and air because it's an organic material. If it happens, this wood enlarges and warps. Moisture is a primary factor for rot, mold, and mildew growth.
These fungi break down the boards, making them brittle and prone to breakage. This sealant works as a barrier between the wood and the material to reduce the potential for water absorption. Formulas that come for outdoor use can protect your trailer deck from UV radiation.
Used Motor Oil On the Trailer Deck?
Research has been done on what is best for sealing trailer decking. The best way to protect wooden trailer floors from damage is with sealant. By adding a coating to the wood, you can prevent much damage. A sealant can prevent scratches and other abrasions through a protective barrier.
We realized how well a mixture of used motor oil and diesel preserves any wood against the elements. Sealing the trailer deck with used motor oil and diesel mixture will be a good idea. You can use a 50/50 mix because it will work properly. Hence, it completely soaks into the wood and dries to the touch. Remember that don't use this mixture too heavily.
Subsequently, it basically goes on like a standard oil stain from a box store. It's not slippery at all, and you like the color of it. To use this oil, just spray the mixture on your decks with a pump sprayer. After applying this used oil, let it sit in the sun for a day, and it looks great. Coating it on top and bottom, and you can recoat it every season.
Some Of The Trailer Deck Oil:
For your trailer deck, you can use the following oil:
Apitong Oil:
Your trailer is regularly exposed to the elements, making it easy to weather-related damage. The Apitong oil, which has water-resistant ingredients, helps reduce cracking, checking, and other similar damage due to increased humidity.
Fungicide is not only a natural beauty but an essential ingredient in maintaining the integrity of your trailer deck. Apitong oil protects against harmful UV rays and keeps your trailer's decor in top shape and fungus-free. Apitong Oil is just one of the reasons why it is the correct answer to protecting your trailer. You can find this Apitong oil on Amazon.
Used Vegetable Oil:
Used vegetable oil from a restaurant fryer works excellently. We treated the trailer deck several years ago, which has held up wonderfully. We have just tried, but it helps.
Vegetable oil doesn't run into any EPA problems or groundwater pollution. The best part is that it's usually free to ask when the restaurant changes the oil in the fryer.
Linseed Oil:
Linseed oil also works to seal the trailer deck properly. You can use linseed oil diluted with some mineral spirits. You just use some thinner or diesel fuel to make it thin enough to penetrate.
In general, it takes time to dry. Though it won't last forever, you can always sand the deck and reapply. It also provides a classic finish and still works well.
TWP:
Accordingly, we also recommend using TWP for your trailer deck. Basically, TWP is an oil-based penetrating stain/sealer. Nevertheless, if you want to recoat every 2-3 years, it can be last 20 years. There is a transparent version, And it contains UV inhibitors—unlike BLO, Thompson's, or other types of sealers.
Penetrating Oil:
Penetrating oil will also be good to use. You can recoat it every 2-3 years. Usually, it can remove film-forming finishes like acrylics or even hard stains, as they are more prone to peeling, chipping, and flaking.
Advantages Of Applying Used Oil On Traiker Deck:
Using used oil on your trailer deck can stabilize the wood and prevent it from rotting. It soaks into the wood's pores, allowing the water to absorb slowly, preventing rot.
Motor oil is discarded after each vehicle treatment. A better option is to use this waste as a preservative finish. Additionally, it's commonly used for outdoor projects and helps prevent mold, mildew, corrosion, and degradation. Furthermore, motor oil keeps insects and termites from attacking wood projects for a year or more.
Disadvantages Of Applying Used Oil On Trailer Deck:
An alternative to floor protection comes in the form of wood oil stains. While oil stains are cheap and easy to DIY, using them over sealants has many expensive downsides.
A significant disadvantage is that they are oil-based, although they will remove water from the wood. That means the moisture will make the surface of your floors slick. And it can cause your merchandise to skid or, worse, cause you to slip and injure yourself. Remember, over time, any protection on your wood will wear off.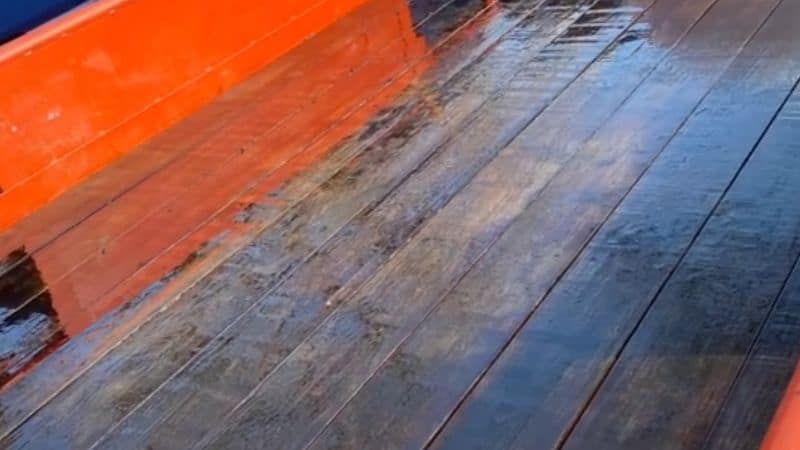 Best Trailer Deck Stain and Sealer
To protect your trailer decks you should read and stain it. Before buying sealant or stain, you should look for UV-resistant and water-resistant properties. It ensures your deck will give long-lasting service for the next several years.
Eco Wood Treatment:
Eco wood treatment is a powder that you can mix with water. You get a tint bottle with the color version and may or may not use it all. We really recommend that everyone consider this substitute carefully. It usually comes in 5 colors, but sometimes they run out of colored versions.
The Smith Stain Applicator:
This is a lifetime-quality stain and garden applicator. It's ideal for semi-transparent stains. You need a big one for semi-solid and full-solid deck stains (opaque stains).
Cabot 3000 Natural Deck Sealer:
Adequately, the best deck sealer provides the best protection from sun damage. The sun can cause wood's natural oils to dry out and crack. The best deck sealer we have ever known is Cabot 3000 Natural, a transparent 'stain .'Typically, it provides the best UV protection.
Cabot Semi-solid Deck Stains:
This product comes in clear, solid deck stains—more protection than a transparent and less opaque stain. If you want to like this, check out Cabot Semi-Solid. Most people choose it as semi-transparent or fully solid (and paint). Actually, Cabot is oil-based and provides fair UV protection.
DEFY Extreme Semi-Transparent:
If you want a quality stain, you can choose this DEFY semi-transparent; it comes in three colors. However, this is the most costly but provides the best protection from other products.
Final Thought
So, is it good to apply used motor oil on the trailer deck? We are trying to give the proper answer to this question. Hence, You can use used motor oil, which will be the best idea. But when you apply it, you should be careful.
It's because this work is pretty messy, and after using it, you should leave it to dry for a day. Please use a 50/50 oil and diesel mixture to get the best result. Ultimately, we hope now you know using used motor oil on wood decks is the best idea. Thanks for reading this article with patience. Best of luck.