Most people know synthetic lubricants better protect components from extreme conditions than mineral-based and traditional lubricants. If a company's tools don't face harsh conditions, they can still make valuable financial benefits by using synthetic oils. That is why SHC lubricants are ideal for various industrial trades and applications.
After using SHC 629 oil, the facility quadrupled oil drain intervals, decreased maintenance downtime, and more. Let's learn more about this synthetic lubricant below:
What Is SHC Oil?
The complete form of SHC is Synthetic Hydrocarbon which is a generic term. Yet, many synthetic base oils fall into the SHC classification, including PAO and the somewhat standard polyisobutylene. And they are sometimes used as an oil additive or base oil in 2-stroke engines.
Polyalphaolefin is the most common critical synthetic base oil in automotive and industrial lubricants. In general, it's a synthetic hydrocarbon (SHC). And this SHC mimics the best structure of hydrocarbons found in mineral oil.
What Is SHC 629 Oil?
SHC 629 is an excellent performing synthetic gear and bearing oil whose viscosity grade is 150. It comes with a synthetic base oil, providing simple HVI and a specific proprietary additive system. Likewise, it can offer incredible performance in extreme service applications at low and high temperatures.
SHC 629 can deliver exceptional performance in terms of oil life, element protection, and trouble-free operation. And it is also capable of increasing productivity.
Moreover, it contains a lower traction coefficient than mineral oil. In fact, it is commonly compatible with other polyolefin-based minerals and synthetic lubricants. Its lower traction coefficient can decrease energy consumption and inadequate operating temperatures.
Application Of SHC 629 Oil:
Selecting the appropriate viscosity grade for specific application needs includes:
Best for remotely located gearboxes while changing the oil are tough—also best for life gearboxes like high-ratio worm gears.
Low-temperature applications, like ski lifts and mixer roll bearings
Severe centrifuge applications like marine centrifuges and railway A/C traction drives.
Even so, you can use this oil in an oil-flooded rotary screw compressor and other gasses and field gas gathering CO2. In your natural gas industry's equipment, you can use this oil.
Specificifications Of SHC 629 Oil:
| | |
| --- | --- |
| Properties | SHC 629 |
| Density | @15C 0.86 |
| Pour Point, °C (°F) | -39C |
| Flash Point | 220C |
| Oil Type | Synthetic |
| Viscosity | ISO 150 |
| Kinematic viscosity cST 40°C | 150 |
| Kinematic viscosity cST 100°C | 21.1 |
| Viscosity Index | 166 |
SHC 629 Oil Equivalent:
SHC 629 oil can perform as anti-corrosion, synthetic, gear, and bearing oils. When you don't find SHC 629 oil for your vehicle, you must use an equivalent product of SHC 629. Which is the equivalent of SHC, 629 oil, you may be wondering? Well, as an equivalent of SHC 629, you can use BlueSky Cirrus Syn 150 oil.
Mobil SHC 629 Oil Equivalent
Mobil SHC 629 is manufactured or developed by Mobil Oil Corporation. Hence, Mobil SHC 629 oil has equivalent quality and performance products. We will give direct replacements for both the Mobil SHC 626 and SHC 629. In fact, we have a replacement for most of the Mobil SHC gear and bearing series.
For Mobil SHC gear and bearing oil series, you can use AMSOIL RC series synthetic R&O bearing and gear oil. Nevertheless, let's get to know Mobil SHC 629 oil equivalent below: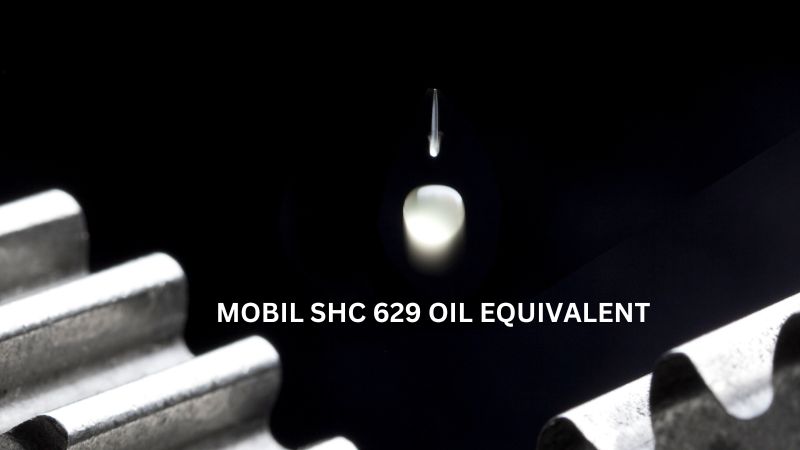 Chevron Cetus HiPerSYN Oil 150
Phillips 66 Syncon R&O Oil 150
Shell Morlina S4 B 150
BlueSky Cirrus Syn 150
Mobil SHC Series:
The Mobil SHC Series is a line of extraordinary performance, synthetic industrial gear, and bearing oils. Mainly, this oil only provides excellent protection for your bearings and gears. They also ensure extended oil life in extreme conditions. Without them, they help ensure trouble-free operation and improve customer productivity.
These scientifically engineered oils have excellent thermal and oxidation properties and exceptional low-temperature fluidity. The high viscosity index results in less change in viscosity with temperature changes, enabling increased low temperature starting.
Mobil SHC series are ideal for industrial gear drives, such as helical, steel-on-steel spur, and bevel gears. Besides this, you can use this series in heavily loaded gearboxes in low and high temperatures.
Final Word:
In short, HSC 629 oil formulation offers exceptional oxidation resistance and deposit formation. Furthermore, this oil also provides outstanding resistance against rust, corrosion, demulsibility, and wear. This oil can give you air-release properties and compatibility with multi-metal and foam control.
Ultimately, SHC 629 oils maintain excellent compatibility with seals and other components. Overall, you can use this tool in a wide range of applications. Not only as a high-temperature problem solvers but also they offer different advantages.