Pro-Tec is a popular brand in the oil industry that offers compressor oils. Pro-Tec is always a good choice for alternative compressor oils. The elements and performance are ready to make the parts of the compressor long life.
Pro-Tec compressor oil is a semi-synthetic air compressor oil. It is formulated to offer outstanding thermal stability, a low pour point, oxidation resistance, and a high flash point. This brand's oil also strongly avoided corrosion from the compressor parts. It also offers to expand the operating life so that users don't need to change the parts of the compressors earlier.
Undoubtedly, this oil is ready to provide the compressor with all-rounder performance. This article will reveal some serious points, advantages, disadvantages, and so on to make the right choice.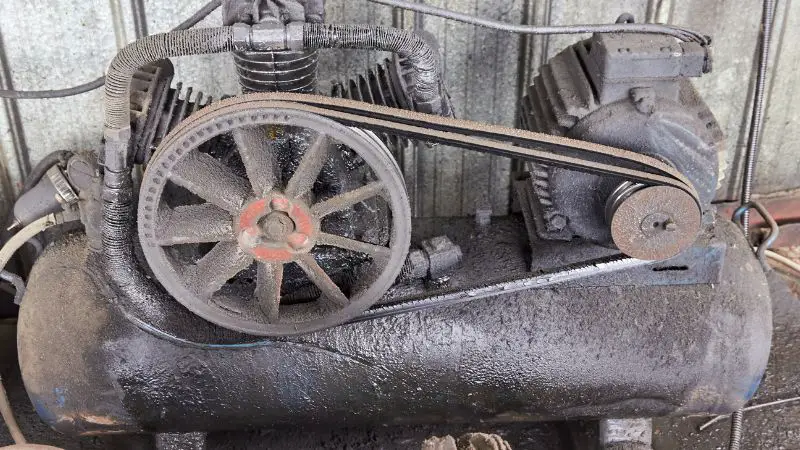 Pro-Tec Compressor Oil
Pro-Tec is a popular brand in the oil industry. Their compressor oil is more popular because it has high-quality elements and expanded component life.
However, Pro-Tec uses semi-synthetic air compressor oil, which is ready to reduce friction and oxidation and protects the compressor parts strongly. On the other hand, it is also ready to control carbon and varnish formation.
Their compressor oil doesn't use toxic and hazardous elements. Pro-Tec uses an advanced technology additive system that is ready to provide one of the best performances of your air compressor.
Overall, its oil provides thermal stability and protects the air compressor deeply from harmful things. The premium composed solution helps the compressor to control the temperature and takes enough pressure.
Pros
Avoid corrosion problems from the compressor components
Reduce friction and oxidation
Handle the temperature and takes enough pressure
Used stability thermal
Capable of expanding the compressor parts' life
Control carbon and varnish formation
Cons
It may not perform well in extremely cold weather
The price of this oil is not fixed. It varies from country to country and area to area. You should contact your near shop to know the accurate price. On the other hand, you will also check out the price from the online shop.
Doosan Pro-Tec Compressor Fluid Specs
Doosan Pro-Tec compressor fluid has some specifications which help you to get a deep knowledge about the fluid. However, check out the following specifications and make the right decision.
Maximum pressure: 300 PSI
Replaces OME oil: Pro-Tec Doosan and Ingersoll Rand
Resistance foaming: High resistance
Typical operating life: 4000 hours at 200 F temperature
These are the core specifications that help you to get enough idea about this oil. Moreover, you will also check out the oil level or user manual to get more information about Doosan Pro Tec compressor fluids.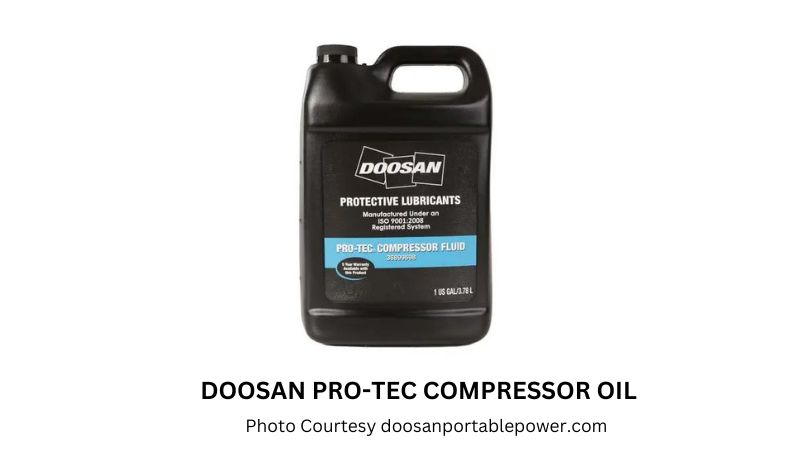 PRO-TEC Compressor Fluid 36899706
This Pro-Tec compressor fluid is made of Genuine Doosan parts which are engineered with high quality and thoroughly tested for durability. You can use this oil to maintain your vehicle compressor with premium performance.
On the other hand, PRO-TEC compressor fluid 36899706 is ready to provide strong protection for the compressor parts. For example, it reduces oxidation, tear, wear, and corrosion and expands the compressor parts' life.
What Is ISO 32 Compressor Oil?
ISO 32 is a type of compressor oil made of high-quality refined-based oil. Its elements are ready to reduce oxidation, corrosion, and foaming. Despite these benefits, the compressor also avoids tear, friction, and other problems.
In addition, ISO 32 provides the compressor with smooth running performance under high temperatures. Users don't need to change the compressor parts frequently when they use ISO 32 compressors because of their strong protection.
FAQs (Frequently Ask Questions)
Q: Which oil is suitable for compressors?
Answer: You can go for Pro-Tec or Doosan oil. Moreover, you will also go for synthetic oil, non-detergent motor oil, or ATF (Automatic Transmission Fluid). ATF is the best oil you can use for your compressor to get premium service.
Q: What is compressor oil grade?
Answer: You will discover plenty of grade oil for your compressor. But SAE 20 and SAE 30 are good solutions. Because their viscosity and other elements are highly compatible with the compressor parts, they also avoid toxic elements and take enough pressure.
Q: Can I use 10W30 in my air compressor?
Answer: The answer is no. It would help if you did not use 10W30 for your air compressor. The manufacturers and experts recommended using non-detergent oil for the compressor. But, 10W30 contains detergent, which makes it clogged, creates damaged elements, and finally damages the compressor.
Q: What is compressor-grade oil?
Answer: Compressor oils are blended from refined base stock, providing maximum safety under high temperatures. Typically, this type of oil is composed for air compressors so that the compressor's components become safe and run smoothly without creating any problems.
Q: What is SAE 30 compressor oil?
Answer: The answer is yes. It is a compressor oil. SAE 30 uses non-detergent elements that help the compressor run smoothly without clogging. On the other hand, this oil is ready to take enough pressure and temperature when you continuously operate the compressor.
Wrapping Up!
Pro-Tec compressor oil is also known as Doosan compressor oil. This oil brand provides high-quality oil based on the compressor type. However, this oil brand is ready to provide premium-grade oil that expands the compressor life and avoids mixing toxic elements or chemicals on the compressor.
However, you will also consider other brands of oil for your air compressor. But, Pro-Tec is more available on the market, so you can easily purchase the oil anytime. Note, Pro Tec oil doesn't contain detergent that's why it is safe to use on the air compressor.
Read Also: Amsoil Compressor Oil SAE 20