Mobil provides different types of motor oil. The most famous two types of motor oils are Mobil 1 and Mobil Super. However, Mobil 1 vs. Mobil Super: which one is better? Basically, both are great synthetic oils in their particular fields. You know that synthetic oil can prevent engine deposits wear and tear.
Although these two oils have some similarities, they also have differences. Because of similar viscosities, Mobil 1 and Mobil Super differ almost negligibly. In extreme conditions, Mobil 1 provides the best performance. Here we will discuss their differences in detail. Please stay with us.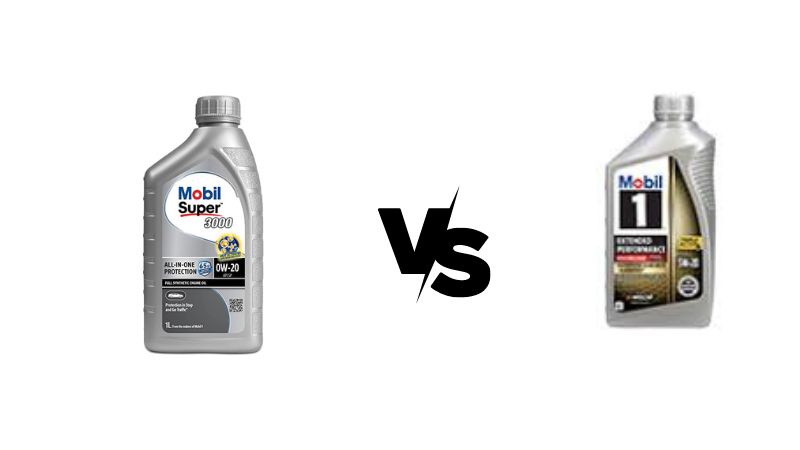 Mobil Super Oil Review
Mobil Super oil combines conventional and synthetic oils designed to exceed an oil life of 7500 miles. Additionally, with performance additives, it protects your engine from corrosion, rust, and sludge. Besides this, it also increases viscosity in various temperatures and environments. Also, it has a sealed conditioner that helps prevent leaks and saves money on diesel.
This oil has excellent oil breakdown tolerance and offers long-term protection. Typically, it can hold oil viscosity at high temperatures. You can use this Mobil Super oil in turbocharged engines. Moreover, using this oil in SUVs, passenger cars, and light-duty trucks and vans is recommended.
Mobil 1 Oil Review
Mobile 1 is one of the most famous and respected brands in the automotive industry. As the name suggests, Mobil Synthetic Motor Oil is formulated for more extended oil changes. You should be able to drive at least 10,000 miles with Mobil 1 Series gasoline engine oil.
Sludge is no match for this substance, thanks to the complete synthetic formula. Consider how long your engine will last if you use the oil.
In addition, you will see an improvement in your fuel economy. Everyone wants to save money at the gas station to pick up this oil. You will be satisfied.
Differences Between Mobil 1 Vs. Mobil Super:
In addition to offering unique additives and base oils, Mobil 1 offers excellent protection compared to Mobil Super. However, you can use Mobil Super oil to extend your engine life. Well, let's discover them in detail.
Engine Performance
Friction, Impurities, and heat are the three main culprits of engine stress, but Mobil 1 can percent all of this. This Mobil 1 fully synthetic motor oil can protect your engine life. It is a premium quality engine oil that guarantees long-lasting antiwear protection.
In contrast, Mobil Super oil suits most naturally supercharged, aspirated, turbocharged automobiles. This oil can ensure your engine continues to run smoothly. If you love to drive in challenging conditions, Mobil 1 oil offers extraordinary resistance at high temperatures.
Engine Wear & Resistance
The primary function of an antiwear additive is to decrease wear and friction because of metal-to-metal collisions. In a concentrated procedure, these oils surround the metal elements with an additional layer.
In terms of wear resistance, the Mobil 1 loses to its competitor. The concentration of molybdenum is very high, but Mobil Super also contains high antiwear compounds. Moreover, both Mobil oil features an antiwear titanium material.
Clean The Engine
During an explosion, wear and tear often occurs. Nevertheless, you can use both fully synthetic oils for vehicle maintenance. Apart from its cleaning engine, it has other legend elements.
Viscosity
Mobil 1 fuel economy gives it higher density, indicating that it would achieve higher kinematic viscosity. Fuel economy has an advantage at temperatures below 40°C; it still holds at 100°C.
Similarly, Mobil Super provides the following viscosities: 5W40, 5W30, 0W30, and 0W20. While its viscosity is 5 in winter, it can reach 30 or 40 in summer, depending on the oil you use.
Oil Change Frequency
The oil plays an essential role in restoring the maximum lubricating capacity of the engine. A motor can use only one dose longer because of advanced burn-off prevention and fault repair. But if you are traveling with a Mobil Super after 7500 miles, you must replace it.
A Mobil Super that has traveled over 7500 miles may need to be lubricated. The product can work invisibly on worn engines and protect them from damage. After applying, this oil will last about 10,000 miles before needing replacement.
According to Mobil 1, it can protect your engine for over 15000 miles. As a result, you can relax for a moment while the engine consumes oil. Compared to the Mobil 1, the Mobil Super offers greater oil change efficiency.
Pros And Cons Of Mobil 1 Oil:
Pros:
Provides outstanding performance in hot and cold weather
Offers better lubrication
It slowly evaporates
It doesn't harm your engine
Cons:
It does not come with a JASO rate
Pros And Cons Of Mobil Super Oil:
Pros:
Extend the engine life
Allows the engine to run smoothly
Guaranteed to cover 7500 miles
Amazing engine protection
Cons:
Not quality oil compared to Mobil 1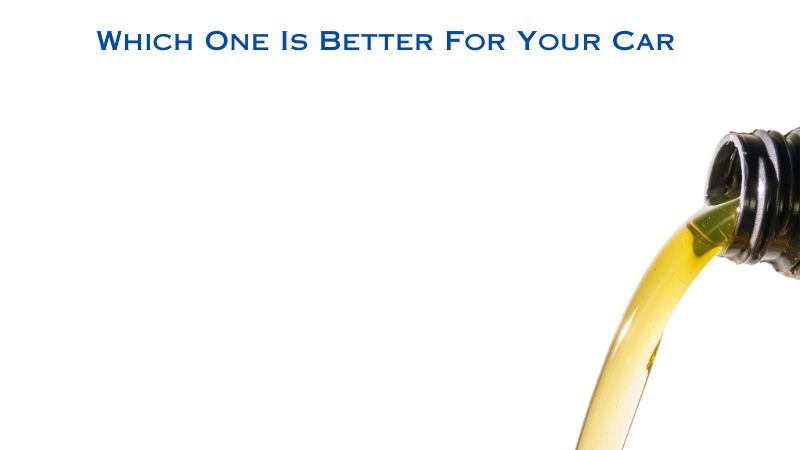 Mobil 1 Vs. Mobil Super: Which One Is Better For Your Car?
Which is the most efficient engine oil Mobil 1 vs. Mobil Super? Mobil 1 contains the latest additives and base oils for excellent protection, lubricity, and performance.
Regardless, some car owners believe that Mobil Super offers many positive adjectives. Also, if you compare both viscosities, Mobil-1 is thicker than Mobil Super.
At last, the final decision goes to only you. Before choosing any oil, you should remember what your requirements are. Then you can select the best and most accurate one for four vehicles.
Mobile 1 Vs. Mobil Super 3000:
Mobil 1 fully synthetic formula makes this oil unconquerable against sludge. As a result, you won't have any problem with your deposit. Using this product will extend the life of your engine.
As its name suggests, Mobil 1 synthetic oil expands the time between oil changes. You can drive over 10,000 miles before refilling your car's fuel tank. Fortunately, fuel economy will improve. In particular, you can get safely on fuel if you use this Mobil 1 oil. Nothing will let you down.
On the contrary, the Mobil Super synthetic oils suite offers a broad range of lubricants. It's best to use in modern engines. Each Mobil Super oil provides superior performance and protection in whichever oil range you prefer. Mobil Super 3000 is a low ash and high-performance synthetic engine oil designed to extend engine life.
Likewise, it maintains emission reduction system efficiency in diesel and gasoline-powered passenger cars. Hence, this oil is suitable for light commercial automobiles and vans.
Mobil 1 Vs. Mobil Full Synthetic:
Mobil 1 is the best ExxonMobil's "fully synthetic" gasoline engine oil. There are many versions and viscosity grades.
There is no legal definition of "synthetic" for engine oil. But "fully synthetic" usually contains Group IV base stock (polyolefin – PAO) and a Group V cosolvent.
Full synthetic engine oils made from Group III base stocks and best for 7500 miles under regular service. And Mobil 1 engine oil is PAO base and suitable for 10,000 miles or more.
Mobil Super Synthetic Vs. Mobil 1 Full Synthetic:
Mobil 1 is part of the ultimate line of advanced full synthetics. Because of its latest additive and base oil technology, it offers outstanding safety and outperforms Mobil Super Synthetic. Hence, this oil fulfills Europe's ACEA performance standards and GM's stringent Dexos1.
More car manufacturers recommend Mobil 1 than any other brand in the world. More NASCAR® drivers use Mobil 1 than any other brand. Mobil 1 has delivered extraordinary performance and is the world's leading synthetic engine oil brand.
Mobil Super Synthetic is a full synthetic that uses synthetic-based oils. It exceeds the traditional and synthetic blend products. It meets the unique industry requirements, GF-5/API SN. The product provides performance comparable to many synthetics on the market.
Mobil Special Vs. Mobil Super:
Mobil Special oil is a high-performance motor oil that provides safety and cleanliness for your engine. Thus, you can use this oil in various engines and operating conditions. You can undoubtedly use this oil in your machine because it helps decrease corrosion and wear. Without any problem, you can use this oil in gasoline engines, passenger car engines, and CNG.
Mobil Super comes from high-quality base oils with new additives. Ergo, it can help to offer long life and proven protection of engine critical elements. In addition, it contains 15% additional cleaning additives vs. Mobil Special Multi-Viscosity oils.
Mobil 1 Vs. Mobil Super 2000:
The Mobil 1 range oils are described as fully synthetic because they are changed in the laboratory. They are sometimes almost 100% synthetic, but they may be entirely artificial when some mineral oil includes.
The 100% synthetic label is given to oils that are predominantly PAOs. But Mobil splits the range into different high and low PAO oils. PAOs can liberate molecules at high temperatures, thus trapping other molecules and causing greater viscosity. Mobil oil differences are determined by the uses of different additives you can get, like cold weather, diesel, racing, and so on.
Since Mobil Super 2000 products are the best for the industry, you can trust this oil to get fantastic performance. Most importantly, this oil comes with a semi-synthetic and low-friction formulation. That's why you can get increased performance from the engine and excellent fuel economy.
Therefore, these products are designed to provide confidence in protection beyond traditional oils. Accordingly, you can use this super 2000 oil in gasoline and diesel engines, passenger cars, light trucks, and SUVs.
Is Mobil Full Synthetic Good Oil?
Yes, Mobil full synthetic oil is better for your engine. Although conventional oil can provide good lubrication performance, it cannot provide overall engine performance. At least synthetic oil can provide the best engine performance ever.
Mobil 1 claims it is the best synthetic oil out there. Its ability to protect critical machine elements for over one year or perhaps 20,000 miles is the reason.
Final Word:
Finally, now you know all the differences between Mobil 1 vs. Mobil Super synthetic oils. But before choosing one from them, you should remember the facts that we mentioned above. Whatever parameter you use to compare them, there is no doubt that both oils are best.
If you want a reliable oil, you can choose Mobil 1. On the other hand, to get a high-performance vehicle, you can select Mobil Super. Ultimately, only some brands can fulfill your requirements. Because of this, before choosing one, you should determine what you need.