Knitting machine oil is generated from paraffinic mineral oils and includes additives like non-ionic detergent, rust, and oxidation inhibitors. This knitting oil meets the critical requirements of current industrial knitting machines.
Textile applications include spindle, Sewing, roving, knitting, Weaving, shearing, Heat transfer, and other related production. Besides this, Knitting oil primarily provides exceptional scalability performance in cold and hot conditions. But many people think both knitting machine oil & sewing oil are the same, which is not right.
It comes from a combination of high-quality paraffin base oils with excellent oxidation stability and good lubricity. Also, this oil provides outstanding protection against rust. It is not only designed to fulfill the requirements of recent knitting machine technology but also to be compatible with the yarns.
Knitting Machine Oil formulation
Accordingly, this oil emulsion generally contains around 85 to 90% mineral base oil and 8-15% an additive.
When mineral base oil works for the main forming purpose of emulsion, additive elements mix to work for many purposes. Particularly, it comprises (0.1% to 0.4%) anti-rust agent, (0.2 to 1.0%) antioxidant, (0.05 to 0.1%) metal deactivators, and water around 0.4 to 1.0%.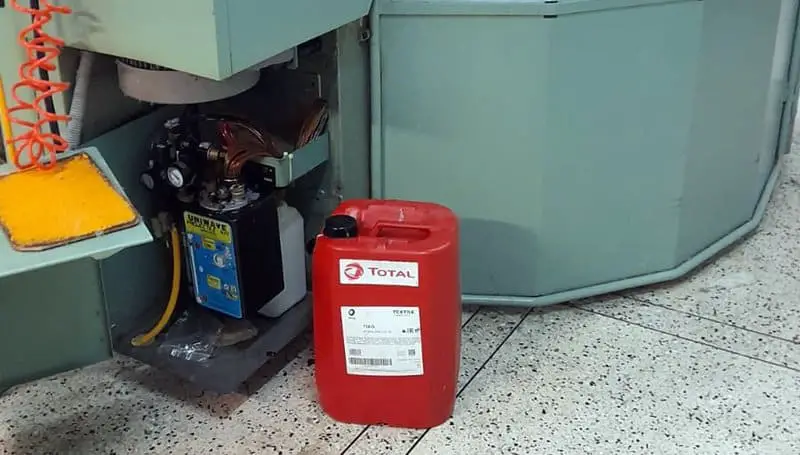 Knitting Machine Oil Features And Properties:
Basically, its color is very light and completely washable.
Wonderful anti-rust capabilities
Lubrication characteristics are amazing
Proper lubricity, reduces friction, sinker wear protection
Non-corrosive to bronze, copper, and other non-ferrous parts
Wonderful lubricating film stability
Include certain emulsifying element additives
High oxidation resistance, incredible aging stability, sludge formation
Protect from wear and corrosion
Compatible with frame paints, Elastane fibers, electronic and plastics components
Enhances the knitting machine life and all the tools exposed to uninterrupted wear and tear
Expands the lubricating oil efficiency
Improved flexibility in terms of lubrication oil usability.
Knitting Oil Specifications
| | |
| --- | --- |
| Characteristics | Specifications |
| Colors | Slightly Yellowish |
| Appearance | Clear liquid |
| The pH of 10% emulsion | 6.0+0.5 |
| Iconic Nature | Non-iconic/ Anionic |
| Viscosity at 40°C | 18-23 CST |
| Specific Gravity at 15°C | 0.86 – 0.87 G/CC |
| Cloud point | Below 0°C |
| Stability | Stable at high temperature |
| Storage life | Under normal conditions |
Applications of Knitting Oil:
As lubricating oil, you may understand its primary function is to offer independent film. That means it minimizes the pressure between contacting surfaces by decreasing the frictional forces for partials under mechanical contact.
You can use this knitting oil through the spray, brush, and oil can.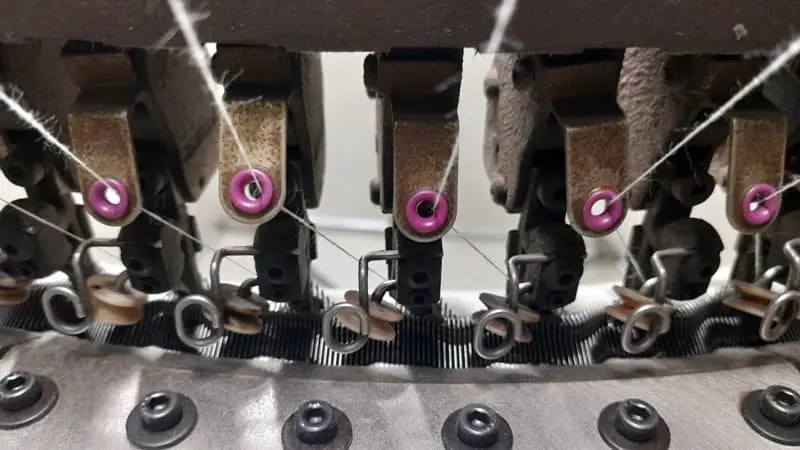 Some of the knitting oil applications include:
Applied with all knitting machines and entire fashion machines and circular knit machines
All high-speed textile manufacturing tools involve lifters, needles, and sinkers.
In a variety of knitting machines, be it mechanically or electrically controlled.
Lubricating oil is found in almost all devices; that's why knitting oil is suitable for all knitting machines.
Perfect knitting oil Selection:
To ensure the meaningful life of two fictional partners, knitting oil should be able to form a robust thin film.
Furthermore, this oil has to be able to offer performance for many abrasion coefficients over enhanced periods.
Don't need to make any shot of residue because it obstructs the speed sliding motion.
During the startup of the machine, your oil should have oxidation stability to ensure that it suffers minimal wear.
Additionally, your oil has to be chemically inert, so it doesn't react with machine paint.
Knitting Machine Oil Price:
Are you looking for the best knitting machine oil for your machine? You can get from us which are non-corrosive. They are no abrasive machine oils and offer the best scour ability from knitted clothes. Besides this, the important subject is that they come at a low price and you can easily wash them.
Undoubtedly, you can use these knitting oils for your high-speed knitting machine. We offer the best quality knitting oil at a low price. Basically, the knitting machine oil price varies from 3-5$ depending on different areas.
Generally, knitting machine oils are affordable. Most importantly, they are manufactured by global oil giants & efficient textile experts such as Vickers knitting oil, Sentro knitting machine oil, etc. But sometimes import base knitting machine oil prices may increase dramatically due to global vulnerable situations like war or pandemic.
FAQ( Frequently Asked Questions):
Q. What kind of oil is used in a knitting machine?
You always need to use premium-quality knitting oil for your knitting machine.
XS knitting oil is a range of pale-colored base oils that enhance additive performance. Even it offers a high level of scouring performance and lubrication.
In particular, high-speed circular knitting matching operations provide the best performance.
Q. How do you clean knitting machine needles?
For this, with clean muslin, dry or paper towel, you should clean your needles and apply a natural beeswax thin layer.
Let it dry and buff it with smooth chamois and muslin cloth.
And then leave them for at least 24 hours before using them for needles.
Q. What is Silicone spray for knitting machines?
Silicone is a medium-duty silicone lubricant that exhibits great anti-stick and slips characteristics. Likewise, you can safely use it on glass, wood, metals, rubbers, fabrics, and most plastics. For example, on sewing and knitting machines, you can use them to make slippery surfaces to help the motion of the material.
Q. What is the Marvel mystery oil knitting machine?
The American Marvel oil company produces this Marvel Mystery oil, an automotive product founded by Busy Pierce
in 1923. On your machine, you can use it as an oil additive, fuel additive, penetrating oil, corrosion inhibitor, and more.
It comes mainly from petroleum distillates, including mineral spirits (10–30%), mineral oil (60–100%), tricresyl phosphate (0.1–1.0%), etc.
Apart from this, it also contains ortho-dichlorobenzene, a removing and softening agent for carbon-based pollution on metal grounds.
Final Word:
Knitting oils provide a long service life without the above characteristics and properties. Nevertheless, the knitting machine oil possesses unique lubricity characteristics, amazing non-foaming, and anti-rust qualities.
It's recommended to check the washability under real situations in your production. Before using the oil lubricant, it's best to check the quantity of oil.
So, we are trying to cover complete information about knitting oil. But if you want to know more details contact us as soon as possible. We are always with you to give you the exact solution to your answer.
READ ALSO: Knitting Oil Formulation