If you have a new or old bike, changing the oil is very important at specified intervals. It's because regular oil change ensures your motorcycle engine's longevity. But you may want to know how often to change your motorcycle oil.
Basically, oil change intervals depend on the oil type, how often you drive, and the cleanliness of the oil filter. As we know, motorcycle oil serves many functions. Failing to maintain the oil properly can lead to engine damage, lowered performance, and decreased fuel economy.
However, are you ready to find out the proper oil change interval? Read this article, take notes, and get your adequate answer from here. Also, don't miss changing the oil again!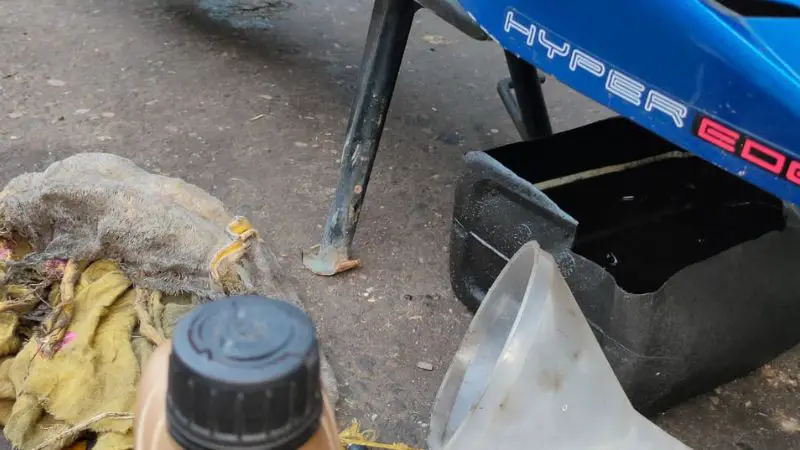 Why Is Motorcycle Oil Change Important?
In terms of engine oil, motorcycles, and vehicles have a lot in common. Both require oil to keep engines running safely and optimally. You need motorcycle oil to lubricate your engine moving parts and clean your internal components.
When you fire up your motorcycle, this oil moves through your engine and grabs debris and dirt while controlling temperatures. Moreover, oil exploits the heat inside the combustion chamber, decreasing the engine's internal temperature and can prevent overheating. overtime day by day this oil loses its properties such as lubricity, viscosity, or density of oil. So after a certain period, it is very important to change the oil.
How Often To Change Motorcycle Oil?
Generally, most motorcycle experts recommend that you change your mineral engine oil roughly every 1000 miles. If you drive your motorcycle regularly, you must frequently change your engine oil.
Nevertheless, depending on the type of oil that you used last, this number can vary. If you use mineral-based engine oil, you must change it around 1000-1,500. On the contrary, you should change semi-synthetic oil every 2,500-3,000 miles or once a year at least.
In particular, you need to change fully synthetic oil around 3,500-4,000 miles, mind the oil type & oil brand matter here. But be sure that, the oil viscosity grade is ok as per the manufacturer's recommendation, whatever the brand. And try to use always the same oil brand.
Check: Does Oil Brand Matter?
Many people want to know, do you need to change your motorcycle oil yearly? Well, for those people, we want to say it's best if you can change your motorcycle oil every year at least once if you ride a few kilometers. But if you regularly ride your motorcycle please change the oil accordingly.
How Long Does Synthetic Oil Last In a Motorcycle?
Before requiring replacement, synthetic oil lasts about six months to 1 year or 4,000 to 5000 miles on average. Actually, it's only an approximation. And you can change it based on factors like vehicle age, oil brand, and driving conditions.
Specifically, the manufacturer-suggested ratings are usually applied to everyday driving. And it does not reflect harsh driving situations. The reason is that you may need to change the oil more frequently for extreme driving conditions.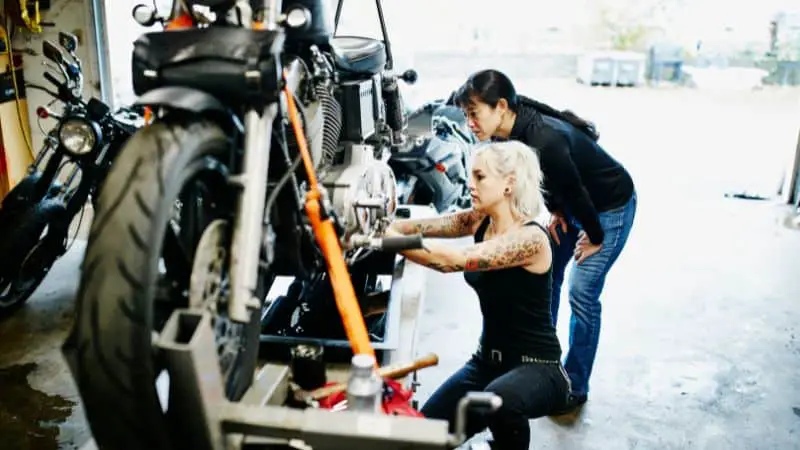 When Should You Change Your Motorcycle Oil?
There is no accurate rule on when to change motorcycle oil. That's why most new bikers want to know when to change the oil on a new motorcycle.
First, you should look at your manufacturer's service manual to know it. Your bike manufacturer includes suggestions on when you need to change your oil and how frequently you should change the oil.
If you maintain these recommendations, your bike is more likely to be in better condition. It's also important to know about scooter oil change intervals.
Besides, changing motorcycle oil depends on the oil, engine type, and distance traveled. If you use your motorcycle a few times, changing it every four months is ideal.
Usually, you can change the oil every 2000 to 4000 miles. The Honda bike oil change time is approximately 4,500 km. Most modern oil can last for a long time. For that reason, it depends on the oil that you use on your motorcycle.
Read Details About Honda Ruckus Oil Change
How to Change the Oil?
Knowing about Scooter oil change intervals is very important. It's because it can help to keep your engine in the correct position. You need a few tools to change the oil without gloves, replacement oil, and paper tools.
It would help if you collected the socket wrench, special spanners, a container for the drained oil, and a new O-ring to handle the particular oil filters. For instructions, you also need a bike service guide. Below are some essential steps that you need to follow when you want to change the oil.
Warm up your bike to thin the oil and prepare for draining.
Unscrew the drain plug, fill the oil, and for easy disposal, drain this oil into a container.
If needed, open and clean the drain plug.
Ready the new oil filter with oil and fill it. After filling it, clean the filter area.
Once the oil is drained, with a new O-ring, install the new oil filter.
Pour the new oil into the reservoir. Use a measuring stick if you need it.
After cleaning the oil fill plug, put it back.
FAQ (Frequently Asked Questions)
Q. How do you know when your motorcycle needs an oil change?
Basically, with five signs, you can know when you need an oil change.
1. Check and see if the oil is black or dirty.
2. And if your engine runs louder than usual
3. Dashboard warning lights won't off
4. The oil level is below
5. You forget the time you changed the oil
Q. How long does motor oil last in a motorcycle?
As we have mentioned earlier, you can mineral replace 1000 to 1,500 miles or once a year at least. Synthetic oils are replaced every 3500 to 4000 or once a year at least. Ultimately, you need to change semi-synthetic oil every 2500 to 3000 or at least once a year.
Q. How often should I change my motorcycle oil filter?
While changing the filter, you should consider the manual recommendation and the oil you choose to use. Notably, you should change the oil filter every 2,000 to 3,000 miles on most bikes, and it's recommended. Subsequently, it is a good idea for synthetic oil users to change the oil filter every time. The critical function of an oil filter is that it can help to keep your oil clean.
Final Word
On the other hand, the answer is how often to change motorcycle oil depends on different factors. Hardcore riders who use mineral oil need to change the oil frequently.
Likewise, if you are a daily rider, using synthetic oil is best because they are economical in the long run. Yet, if you use your bike only on weekends, change the oil at least twice a year. Remember that you should always check the oil level of your motorcycle.
Having clean engine oil is also better; maintaining the proper oil amount inside the crankcase is good. At last, if you also have questions about how often to change motorcycle Reddit, leave us a comment. We are always here to give you an answer.
Read Also: Harley Transmission Oil Change