The 50cc Honda Ruckus is an incredible machine. Purpose-built and made to last, it is by far one of the best-selling scooters of all time. It's super reliable and you need relatively low maintenance. However, just like all automobiles, they need regular maintenance to get top shape.
Also, if you have a Ruckus Honda, Honda parts direct maintenance manual helps you maximize the scooter's performance and life. So, this is the article where we will discuss Honda Ruckus oil change intervals and more.
Important Information About Honda Ruckus Oil Changes:
Oil is one of the most important aspects of any motor. In addition, it keeps everything moving and rolling smoothly. We saw that an oil change every 1000 miles keeps the Ruckus Honda motor running in top shape.
This reduces backlog and keeps things running smoothly. Engine oil cleans and lubricates the motor inside and as it is used, the oil's effectiveness decreases.
The Honda Ruckus's small engine area can build up quickly. This is why we believe that a shorter oil change interval is desirable for these motors.
For that reason, it's good to change the oil at 500-mile intervals with 10W40 fully synthetic oil. It's because it can help create and break down the oil sooner. Furthermore, change the crush washer behind the oil drain bolt so there is no leakage in this oil drain hole.
After you start racking up the miles on your Ruckus, it's also wise to clean the motor perfectly. This won't only make your Ruckus look cleaner but help you identify any oil leaks that may be leaking.
How To change the oil in a scooter?
Change the oil with the engine warm and the scooter placed on its center stand to secure complete and rapid draining.
Warm up the engine to normal operating temperature, stop the engine and remove the oil filter cap dipstick.
Remove the drain belt and washer and drain the oil. Install the oil drain belt with a new sealing washer and tighter it to the specified torque.
Now check the oil level. Install the oil filter dipstick and make sure there are no leaks.
Honda Ruckus Maintenance Tips:
Here below we give some maintenance tips for Honda Ruckus. Have a look: 
Tire Pressure
Proper tire pressure is something that is often overlooked. Tires are the final connection between engine power and the road. That's why any tire problem can greatly affect speed and performance. Under-inflated tires can affect MPG and performance greatly because it makes a rolling drag.
Additionally, it can enhance tire wear because the maximum tire is in contact all the time with this asphalt. Stock Ruckus tires factory cold air pressure is 20 PSI. But we recommend at least 30 psi inflating to reduce rolling resistance as much as possible.
Besides this, we like to upgrade the stock knobby tires to more street-friendly tires like the Michelin Boppers. They are smooth tires and perfect for road use. Also, you can feel less vibration and noise which means enhanced performance, speed, and longevity.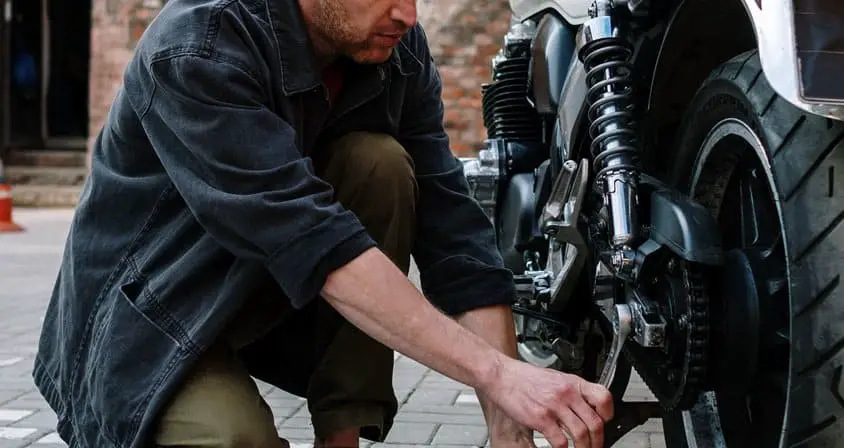 Belt and Transmission
You need to check the Honda Ruckus weights of the belt and variation at 1000 miles intervals. When you can notice any fraying or extra belt wear, replace it immediately. Actually, the belt is a critical component of transmission, it's best to keep it in top working condition.
A worn belt can stop the acceleration and top speed. For that reason, make sure it's replaced when important. Good replacements are factory Pollini, Bando, or Gates belts. In the roller weight, any flat spots are bad, and replacing them can help develop your top speed.
Keep it Clean!
Finally, you should always clean your Honda Ruckus. This will make your scooter look good and preserve it. Moreover, it can help you identify any problems early and fix them if necessary. A clean motor can help you spot any leaks and alert you to areas that need attention.
We have experience of using the scooter abused. So clean is the easiest way to keep your scooter in tip-top shape. You can trust us because it can help develop resale value. Likewise, it can also make you proud of your two-wheeler investment.
FREQUENTLY ASKED QUESTIONS:
Q. What is Honda's ruckus oil capacity?
Honda Ruckus oil capacity is 5 quarts or 16 ounces. The owner's manual says "about 0.6 quarts." But half a quart of oil can sit amazingly between the top and bottom marks on the dipstick.
Q. What is the Honda Ruckus oil change interval?
The Honda Ruckus service manual specifies an oil change interval of 2000 miles. So, you can follow it or do it earlier. But best is to do it within 1000 miles
Q. How often does the Honda Ruckus first oil change?
Are you a beginner and want to change your Ruckus oil? At first, you can change the oil at 600 to 1000 miles intervals.
Q. Can I Use Honda Ruckus oil 10W40?
For your Ruckus scooter, Honda recommends a 4-stroke motorcycle oil. Honda's official oil is Pro Honda GN4 4-stroke oil. Ergo, in warmer climates, using 10W40 oil is best.
Final Word
In conclusion, if you have a Honda Ruckus and want to know oil-changing techniques, this article will help you. It's because, here we are trying to include Honda Ruckus oil change tips, capacity, and more. So, after reading this article you can know what you want.
Even so, from this article, you can know which oil is best for your Honda Ruckus. Finally, thanks for reading this article attentively. Stay with us.