Gear oil is a crucial part of your vehicle's maintenance. Be aware when it comes to reliability and performance. Especially if you have an older Ford 9, choosing the right gear oil is even more important. It's because it enhances lubrication protection along with decreasing friction and wear.
But what gear oil for Ford 9 inch, you may not know. This is the guide where we discussed the best gear oil for your Ford 9-inch. Besides this, after reading this article, you can choose the best gear oil for your Ford 9. So, let's go to know what's best:
So, What Gear Oil For Ford 9 Inch?
The Ford 9-inch differential is a customarily used aftermarket differential with a unique requirement for lubrication. For this Ford 9″ the initial thought was SAE 85w140 oil because they are old technology differential. Also, they have high-output engines. However, experience has shown that there are better ways than this.
Actually, Penrite Limslip 90 is our primary recommendation for Ford 9″. The viscosity grades seem to suit the needs of this differential better. Even its added protection provided by an API GL-6-rated oil allows it to carry a higher load. In more severe applications where heat may also be a factor, SIN Gear Oil 75 may also be used.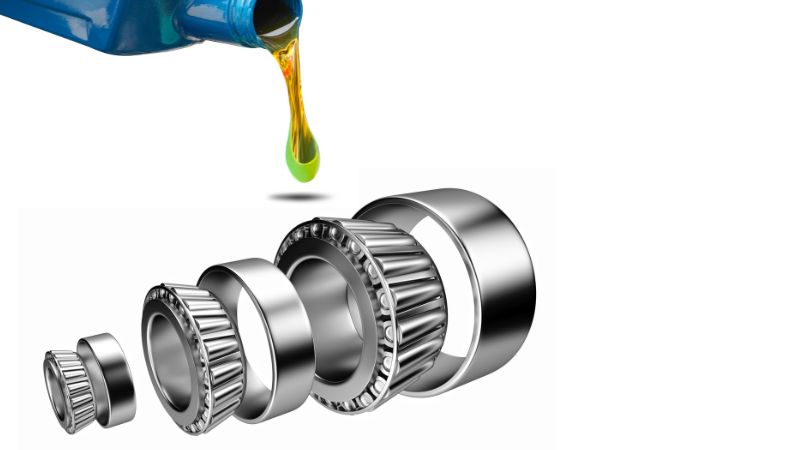 How much gear oil for Ford 9 inch:
Most differentials are very easy to fill with gear oil. But the 9-inch Ford is difficult to load completely. The fill plug location on the 9″ Ford can drain before the oil is completely filled. Most 9″ Ford housings hold at least 2 ½.
Moreover, these differentials also contain 3 quarts of oil and sometimes up to 5. After using the oil, it's essential to take your time to make sure the oil has settled. In fact, recheck the oil level before driving to ensure it's filled.
Read About How many quarts of fluid does a 4l60e hold
Quick Performance 9 Inch Fluid Capacity:
Quick performance 9 inches fluid capacity is 5 PINTS (2 1/2 qts). But it would help if you remembered that don't overfill your tank.
This Ford has the next center section with a 1/2″ NPT plug on the left side. Fill it until the gear oil is at the bottom of the hole.
Ford 9-inch Carrier Break
For the Ford 9-inch, there is no carrier break. You can use the same unit parts for the 2.50 and 4.56. Now if you choose 2.50 and 4.56, you may need different axles. It's because it takes the above differential spider pinion shaft up.
Ford 9 Rear End Fluid
You can use this 85w140 Ford 9 rear-end fluid in all rear ends. Without this gear oil, you should use the Posi traction additive with this oil. For your new 9″ Ford, you need to use 3 quarts of oil. Extreme pinion angles, applications, and aftermarket elements were added to the unit.
Currie Gear Oil:
Currie 9-inch is a high-performance non-synthetic racing 85W140 gear oil. Generally, it is designed specifically for the requirements of 9-inch gear assemblies meeting API GL-6 specifications.
It gives the highest shear strength and extreme stress protection to expand your Curry's rear-end life. Yet, this gl-6 gear oil also comes with a high shock load and severe stress chemistry. Specially, you can use this gear oil in High-Offset Hypoid 9-Inch Gear Geometry.
Best Gear Oil For Spool:
Dow33 is a generic lube; if you buy generic Dow33, you can get a lot of it very cheaply. Even it works well on spools (and many spools recommend it).
To get maximum results, you should mix three parts Dow33 with 1 part of paintball oil. After mixing them, you can use them and get the best results. In fact, the Amsoil 190W or 250W Racing Severe Gear Lube is also the best oil for your spool.
You will never experience using FSDO on your bolts, even in cooler temperatures, though it's very cheap.
Final Word:
If you have a Ford 9 and want to know what gear oil is for Ford 9-inch, this article is for you. Usually, buying the right gear oil for Ford 9 can be confusing. When choosing Ford 9 gear oil, you should consider several factors.
First, read your owner's manual to see what type of gear oil is best for your vehicle. For example, some Fords need a 75-140 rated hypoid (or SAE 90) GL-3 or GL-4 transmission fluid. On the other hand, others may need a high-performance synthetic oil like Royal Purple's Max Gear Oil.
RELATED: