Coning oil is also known as a yarn lubricant or antistatic textile oil. Similarly, knitting oil is designed for knitting machines, which makes knitting more powerful and smooth to work. Using coning oil, users can easily reduce friction between thread and meta.
On the contrary, these two oils are designed for the textile industry's machine. Moreover, coning oil also ensures less damage during subsequent operations. Undoubtedly, both of the oils are essential for the textile industry, and of course, this article provides you depth information to get a clear concept.
What Is Coning Oil?
Coning oil is a neat oil used for the cone of textile yarns. This oil provides better performance than regular oils. Moreover, coning oil doesn't dirt the clothes and is easy to remove using water.
The ingredients of coning oil make the oil the best performer on the market. However, it is used special additives chemistry to reduce friction and thread as well as metal.
Most importantly, the oil doesn't create rust or stain problems on the fabric. You may be happy to hear that it comes with excellent washability, which easily helps the fabric to remove oil dirt.
Overall, coning oil is one of the best selections for textile yarn. It is good enough because of its versatile performance.
Coning Oil Specification
Low Volatility: It is ready to reduce consumption and provides a good working environment
Rust & Corrosion Resistance: Of course, coning oil is rust-free and avoids corrosion
Reduction of Friction: It provides less reduction of friction, which is good enough for textile machine
Low Volatility: It provides excellent resistance to evaporation even at high temperature
Additives: The manufacturer of this oil added special additives
What Is Knitting Oil?
Knitting oil is a type of oil that improves lubrication and improvement of quality of knitted fabrics. Moreover, knitting oil is recommended for fabric, nylon, and so on.
Furthermore, this oil is also designed for textile machines, especially for knitting machines. The ingratiation and formulation of knitting oil are ready to provide the best service on mist.
Specifications of Knitting Oil
Viscosity: This oil system comes with a viscosity of 22-46 at 40-degree C temperature.
Temperature: This oil is ready to be stable at high-temperature so that users can continuously use their knitting machine.
PHP: The oil used 10% of PHP emulsion, which also maintains the standard grade
These are the key specifications of knitting oil. You will check out more knitting oil specifications from the oil user manual.
Check: Knitting oil Formulation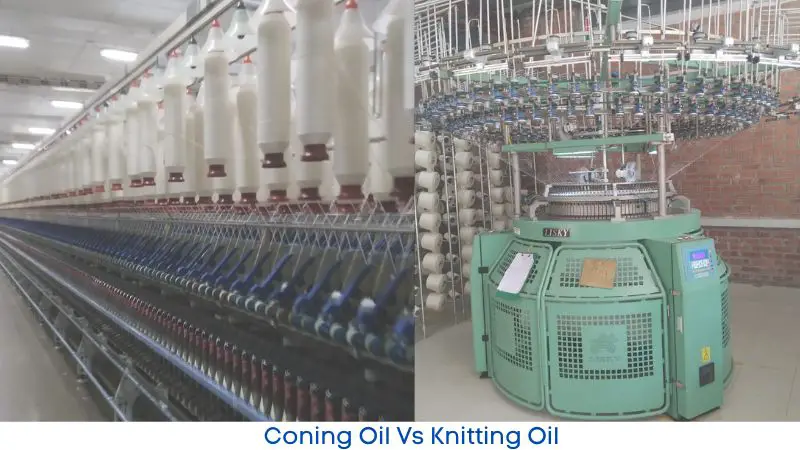 Coning Oil Vs Knitting Oil
Now, you have individual information on these two oils. Knitting oil and coning oil are designed for textile machines. However, you may check out the following comparison to hassle-free compare each other.
| | |
| --- | --- |
| Coning Oil | Knitting Oil |
| Coning oil's ingredients are washable. So, it is recommended to wash items | Generally, most of the knitting oil is not washable. So, you have to select this oil for unwashed items. |
| It is used for transforming high-speed raw and dyed polyamide or Polyester | It comes with anti-projection (AP) and antistatic (AS) |
| The viscosity level of coning oil is 10 to 15 | Knitting oil viscosity is lie 22,32 or 46 at 40C |
| Coning oil is used for textile yarn | Knitting oil is designed for fabric, nylon, and other areas |
These are the core differences between coning oil and knitting oil. Based on your need and machine types, you can consider any of them.
FAQs (Frequently Ask Questions)
Q: Can I use wd40 on the knitting machine?
Answer: The answer is no. It would help if you did not use WD-40 on the knitting machine. When you apply wd40 on your knitting machine, that means you are using the wrong lube. It needs to be better for your knitting machine, and you are unable to get better performance.
Q: How often should I oil my knitting machine?
Answer: First, you should use knitting machine oil at the beginning. After finishing the tasks of your knitting machine, you can use knitting oil again to get better performance the next time.
Q: Does WD-40 ruin nylon?
Answer: You can use WD-40 for nylon material without getting any problems. WD-40 never damaged nylon mate; the ingredients are also compatible with nylon. So, it would help if you did not worry about this matter.
Final Words!
Coning and knitting are two different types of oils. Though they are different and their ingredients are also different, they are used in the textile industry. However, the viscosity and additives are also different. However, the main differences between these two oils are washable and non-washable.
On the contrary, the oils are ready to provide better performance for textile machines. Overall, you can compare each other of these two oils and make the right choice based on your machine and the machine's need.