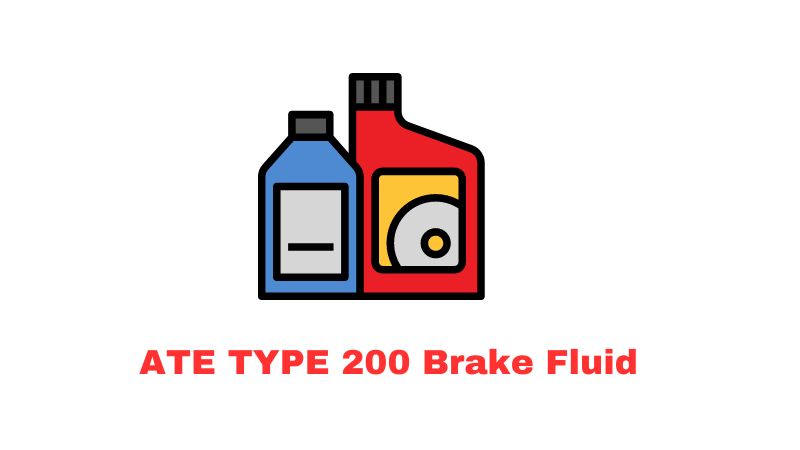 The brand ATE represents an expert in developing brake fluids in the part of the brake assembly. We know that different brake fluid is ideal for different automobile applications. Every vehicle comes with a different type of brake system. All features, viscosity, pressure behavior, and boiling point allows brake systems to respond quickly and reliably.
ATE provides four brake fluid formulations. From ATE, all fluids come with high-quality additives that help to provide excellent corrosion protection and maximum compatibility.
The ATE brake fluid line includes the ATE TYPE 200 brake fluid, ATE SL.6, and ATE 5.1. Here we have discussed Type 200 and another brake fluid in detail. However, let's dig into deep about ATE TYPE 200 brake fluid before:
ATE TYPE 200 Brake Fluid:
ATE TYP 200 exceeds all DOT 4 standards for brake fluid. Moreover, it can excel ultimate demands of race cars and high-performance driving. Due to its dry and wet boiling points, the owners of every on-road vehicle prefer this fluid. Most importantly, this brake fluid is compatible with all Dot 4, Dot 3, and Dot 5.1 brake fluids.
The formula minimizes boiling point because excellent water binding characteristics result in a long-lasting fluid. Due to this formula, it can provide fantastic performance for three years in normal highway riding conditions.
To maintain the operational reliability of the brake system, you should change the brake fluid according to the vehicle manufacturer's specifications. Changing the fluid regularly is essential to maintain optimal performance in your vehicle applications.
ATE TYPE 200 Brake Fluid Specifications:
ATE Type 200 Amber Brake Fluid:
Accordingly, this brake fluid is an ideal choice that can operate the high demands of your brake system. No matter whether you're engaged in road racing, autocross, or high-performance street driving. Formulated for motorsport, ATE Type 200 Dot 4 brake fluid is suitable for your everyday driving.
A vehicle's hydraulic brake and clutch systems exhibit the best capacity for water absorption and the highest boiling point. The composition is operated by water-binding polyethylene glycol and additives.
The wet boiling point was maximized at approx. 200°C to allow longer intervals between brake fluid changes. ATE Type 200 is the same as ATE super blue brake fluid, without a DOT-compatible amber color. All other specifications are different. ATE has engineered the two liquids to achieve the same performance.
ATE TYPE 200 Review:
You can find many excellent Dot 4 brake fluids on the market. But the ATE Type 200 offers outstanding performance for the price. The physical and chemical properties are similar to ATE Super Blue – it's just not blue.
ATE Barke Fluid Dot 4:
Ate Dot 4 brake fluid is a conventional polyethylene glycol-based brake fluid that is best for specified models. Don't mix this fluid with synthetic Dot 5 fluid systems. Dot 4 brake fluid can determine a lower viscosity of high-performance braking systems.
This fluid comes with a blend of boric acid esters, polyethylene glycol, and anti-aging and anti-corrosion additives. Additionally, it can meet SAE J1704, 116-DOT 4, and ISO 4925 standards of hydraulic fluid.
Its dry boiling point is 260°C/500°F, and its wet boiling point is 165°C/329°F. Also, it's recommended to service the clutch and brake hydraulic systems every 1-2 years.
The ATE brand has long been known as an OEM (Original Equipment Manufacturer) in European vehicles for all braking system parts. From brake pad rotors to calipers, brake servos, and master cylinders, the ATE provides the best fluid for over 100 years.
ATE Brake Fluid SL:
ATE's SL.6 Brake Fluid is a thin body brake fluid designed to work optimally with these systems. Ate SL brake fluid meets the requirements of DOT 4 or 3, SAE J1703, and ISO 4925, Class 6. Many car manufacturers use this SL brake fluid in production vehicles.
Furthermore, this brake fluid is also ideal for electronic brake systems. This ATE SL brake fluid boiling point is a minimum of 509°F. In contrast, its wet boiling point is 347°F, and its viscosity is 104°F: max 700mm ⅖. You can regain this fluid in everyday driving for up to 2 years.
FAQ (Frequently Asked Questions):
Q. What is the viscosity of ate type 200?
The Viscosity of ate type 200 brake fluid is -104° F: max 1,400 mm ⅖.
Q. What is the shelf life of ate type 200?
The shelf life of ate type 200 brake fluid storage temperature is -20° c/-4°F to 40° c/104° F. You can store this brake fluid for up to 5 years which has in original, factory-sealed packaging. But it would help if you replaced this brake fluid regularly. You must adhere to your vehicle manufacturer's replacement intervals for the best result.
Final Word:
The ATE Type 200 brake fluid is excellent and has significantly decreased in price recently. For most applications, a complete flush of the system can be sufficient. No reason not to use this quality fluid in any vehicle with a DOT 3/4 system exists.
Its performance for dry boiling is lower than other performance brake fluids. But it has a highly wet boiling point. Overall, Ate Typ 200 brake fluid is popular with many driving and track enthusiasts. Ultimately, we are trying to give accurate information about this brake fluid. If you can get proper information on this article, we are blessed. Thanks for reading this article.
Read Also: