Motors come in different shapes and sizes, so you can't expect a one-size-fits-all engine oil. For example, it's best to take the incredible Cummins 6.7L turbo diesel engine found in RAM trucks.
What oil does a 6.7 Cummins take? How to differentiate between numerous oils and select the best one? If you're searching for these answers, we are here for you.
If you want the best performance from your Cummins 6.7L engine, you should ensure you're using the right oil. Check out the lineup of best oils for 6.7 Cummins below!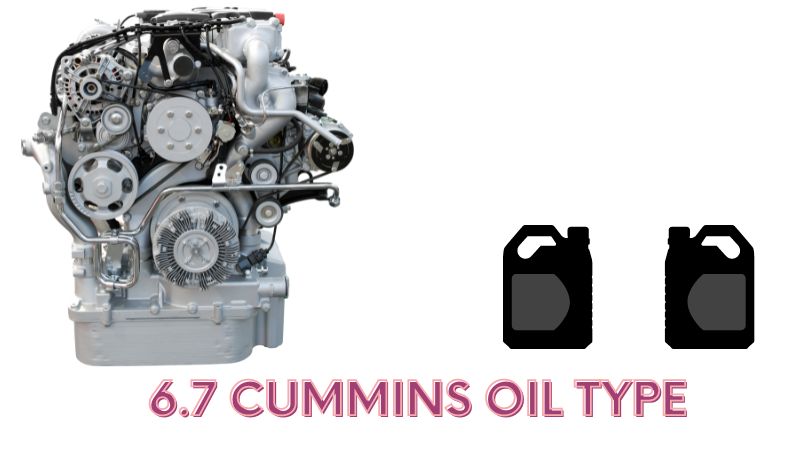 What Oil Does A 6.7 Cummins Take?
6.7 Cummins engines use SAE 15W40 or 5W40 fully synthetic oil, specifically designed for heavy-duty cars. Also, these oils can hold up to 12 quarts of oil before another change.
However, this article will discuss the best oil for 6.7 Cummins and determine the manufacturer's recommendations and user preferences. We will review some of the best oils for Cummins 6.7.
So Let's get started.
Valvoline Premium Full Synthetic Engine Oil 5W40
Valvoline is another product that Cummins recommended for use in their engines. Additionally, this 5W40 viscosity-graded oil is an upgrade from the traditional 15W40. Both products perform similarly in hot temperatures, but for freezing temperatures, it serves better. Likewise, this oil has excellent cold-start capability and great thermal resistance in hot temperatures.
Regular heavy-duty engines need frequent engine oil changes. But the unique drain extension for the Cummins X15 will maintain oil quality for over 10,000 miles.
Your engine will have better wear protection from debris and harmful pollutants. The oil won't oxidize as quickly as other engine oils. A smoother-running engine will increase fuel efficiency.
Valvoline Premium Blue Diesel Engine Oil 15W40
Valvoline manufactures leading products in the field of engines. It is a high-quality product manufactured by them. We chose this as the best engine oil for the 6.7 Cummins because of the variety of uses.
Cummins has tested this product for various vehicle applications. It won't just work in your cruising car. You can use it in heavy-duty vehicles offering the same high performance.
Typically, it will be the best choice if this car is in a high-temperature area. 15w40 is thicker in hot temperatures and performs nicely in average temperatures. Cummins recommends this product for diesel engines because it offers better emission control and lubrication.
Shell Rotella T6 Synthetic Diesel Engine Oil 5W40
This 5W40 viscosity grade provides an extra 1.5% increase in fuel economy compared to traditional 15W40 grade products. It's an excellent selection for changing viscosity grades at cold temperatures.
Shell Rotella showcases their unique triple protection plus technology in this product. And it uses a combination of fully blended synthetic oils and advanced additives. This will increase the equipment protection of your engine and significantly prolong the machine's life.
Advanced additives can protect the engine from soot, debris, and harmful pollutants. Low ash formulation technology offers significant emissions without affecting fuel economy.
6.7 Cummins Oil Type:
In this section, we have suggested different oil types based on the year of development and engine type. From 6.7 Cummins synthetic oil or conventional, which one is ideal, you may think. Let's see below:
2019 6.7 Cummins Oil Type:
This model was released in 2019, a decade after the 4th gen model. It generates better torque and hp than before. Yet, its engine is also a 6-cylinder 12 quart.
However, RAM recommends 2500 SAE 10W30 or 5W40 synthetic motor oil. According to them, 10W30 provides better engine protection. Hence, it operates at lower temperatures and decreases fuel consumption. For oil brands, you can use Valvoline Premium Blue 5W40, Shell Rotella 5W40, or 10W30.
2021 6.7 Cummins Oil Type:
For 2021 6.7 Cummins, 5w40 synthetic oil below at ambient temperatures of 0°F(-18°C) is suitable. It meets the manufacturer's material standard MS-10902 and needs the API CK-4 motor oil category. Moreover, it provides excellent protection against wear and also gives better mileage.
2022 Cummins Oil Type:
As for oil brands, you can use Rotella T6, Amsoil, Valvoline, or Mobil synthetic oil. For 2022 Cummins 6.7, using the 5w40 grade synthetic oil is best.
6.7 Cummins Recommended Oil: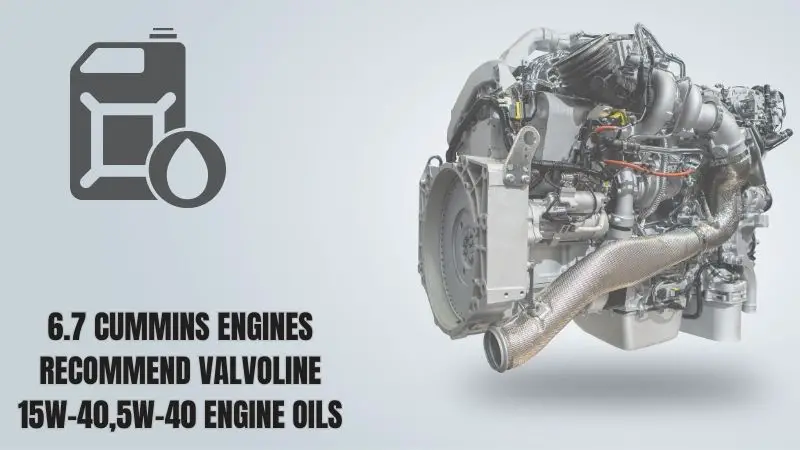 The manufacturers recommend Valvoline premium blue engine oils of 6.7 Cummins. The reason is that this oil comes to provide the best lubricant performance in modern and emission diesel engines.
This product technology provides long life and extended exhaust capability when used with ultra-low diesel sulfur fuel. Moreover, its balanced formulation helps maximize engine stability and after-treatment cleanliness.
Ultimately, Valvoline's premium blue motor oil is approved by Cummins. Generally, it has been tested by Cummins, including diesel, CNG, and LNG-powered engines.
Notably, it's approved and tested against industry standard specifications like SAE, CED, and TMC. It is tested and approved against industry standard specifications such as SAE, TMC, and CES.
The Cummins 6.7 engine was meticulously engineered to deliver a 3% base engine fuel economy and incredible overall performance. Valvoline Premium Blue engine oil remains the only ™ recommended for all Cummins engines.
Some Other Important Info Related 6.7 Cummins Engine Oil
Ram 2500 6.7 Cummins Oil Capacity:
A 6.7 Cummins engine needs 12 gallons of oil with a filter replacement. If you don't need to change the oil filter, this Cummins oil capacity is 10.5 quarts. This is a 6.7 Cummins diesel engine for a Dodge Ram 2500/3500 truck.
Consult a trained mechanic or owner's manual to ensure your truck model is old. It's because older trucks may have slightly more or slightly less oil. It's essential to get the 6.7 Cummins oil capacity level right. The reason is that too much or too little oil in your engine can be dangerous.
How Often Should You 6.7 Cummins Oil Change?
The 6.7 Cummins contains a diesel engine and can go a while before needing an oil change. On average, the 6.7 Cummins oil change interval is 15,000 miles or six months. It means you must replace Cummins oil every 15,000 miles or six months. But if your 6.7 Cummins model is before 2013, then 7500 miles should maximum for an oil change.
The last thing you want to deal with is an expensive engine repair due to leaking oil. You will get some warning signs if the oil pressure is low. Here's what to look for:
Low oil warning on the dashboard.
The engine runs rough or makes noise.
The dipstick shows a low oil level.
How To Extend 6.7 Cummins Oil Change Interval?
For extended drain intervals, you need a synthetic oil change. You must employ an oil monitoring program to ensure your oil is in good condition.
The oil has to be analyzed, but it indicates the oil quality at any time. In our experience, you can go up to 10,000 km (6200 miles) extended by doing this, but additional filtration is necessary. Some experts also say, by using higher TBN quality motor oils you can get up to 50000km of drain interval from a diesel engine. Another great option is a bypass filter kit that you must change halfway through the interval. But make sure that, you are using the right oil for your 6.7 Cummins engine.
FAQ (Frequently Asked Questions):
Q. What is 6.7 Cummins oil capacity with a filter?
The 6.7-liter Cummins engine oil capacity with a filter is 12 quarts, 11.4 liters, or 3.012 gallons. As with all diesel engines, the best oil is 15W40 multigrade oil; it works well over a broad range of temperatures. You'll also find recommendations in your owner's manual and Cummins' website.
Q. What is the best oil to run in a 6.7 Cummins?
Cummins 6.7 specifically recommends two Valvoline oils for its engines. 15W-40 oil for temperatures above 0° F and 5W-40 for severely cold temperatures.
Q. What oil does 6.7 diesel take?
For 6.7 Cummins engines, the ideal oil also depends on the model year. For all models, it's recommended to use synthetic oil over conventional oil. Synthetic oils have a higher flash point and additives than traditional oils.
Although fully-synthetic oils are slightly more expensive, they last longer and support engine longevity. The ideal viscosity grade varies based on the model year and driving condition. Choose a viscosity grade based on the ambient temperature in your area.
Model years 2007 to 2018:
Choose a synthetic oil 15W40 for temperatures above 0°F. For driving in all temperatures, including below 0°C, choose a synthetic 5W40 oil.
Model years after 2019:
It's ideal to choose synthetic 10w30 oil for above 0°F temperatures. For driving in all temperatures, including below zero, a synthetic 5W40 oil is.
Final Word:
On the other hand, now you have an idea about what oil does a 6.7 Cummins take? With this valuable knowledge, you can select a brand of high-quality oil. The right oil will contain a full spectrum of additives and promote a healthy engine.
If you want better mileage and cut down on pump trips, you must choose Valvoline Premium blue SAE 5W40 engine oil. Ultimately, it provides excellent mileage and protects the engine from cold starts. It also keeps your 6.7 Cummins engine in peak condition for longer.
Recommended For Reading: