Super S motor oil is a brand whose parent company is Smitty. They manufactured the oil for the motor engines. This brand is not only designed for synthetic oil but also designed for hydraulic oil and so on. You will get available oils from the market.
This brand of oil is ready to protect your vehicle's engine from wear, rust, corrosion, and so on. The anti-rust technology protects the engine from rust strongly. Undoubtedly, this oil brand allows you to get long-time performance without changing the oil.
Super S Oil Company
Super S is a major brand of Smitty's Supply, Inc. A global leader in the Independent Manufacturing and Distribution of Oils, Treatments, Lubricants, and so on. They produce chemical-related products and earn much popularity because of their quality product.
However, Smitty's is a popular brand in the automotive industry based in America. They started their business in 1969. Their main goal is to make a quality product so that users can use their vehicles safely and get the service for a long-time.
Super S Oil distributors, you will discover all over North America and 50 more countries. They have made and supplied synthetic oil trustfully the drivers for a long-time.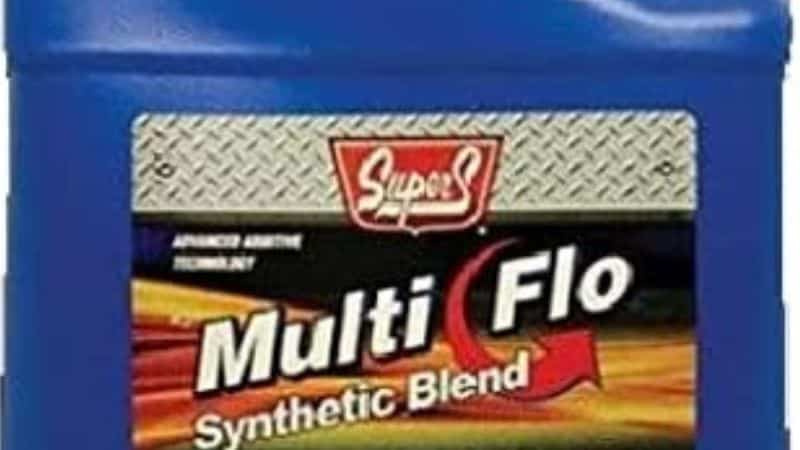 Super S Oil Review
This oil is full of synthetic oil. It is designed for motor vehicles as well as motor engines. The oil is engineered with the latest lubricant technology, which provides ultimate engine protection for your vehicle.
On the other hand, the oil is designed for gasoline engines to protect the engine from wear and extreme heat temperature and allows you to use the oil for a long-time without changing it.
The oil is not only suitable for hot temperatures, but you will also use the oil in cold temperatures. Overall, you can consider this oil for your vehicle to protect the engine and run your vehicle for a long-time without changing this oil.
Pros & Cons of Super S Oil
Though this oil comes with lots of advantages, you will also get some disadvantages from the oil. After getting the pros and cons, you will get a clear concept of this oil.
Pros
Super S provides the engine with maximum protection
It protects the engine from wear, corrosion, and rust
Provides the engine with longer performance
You will get synthetic oil benefits from using this oil
The oil is suitable for both cold and hot temperatures
Cons
Super S Lubricants
The manufacturer of Super S makes oil lubricants with high-quality based stock and the latest additive technology. The lubricant is perfectly designed for the engine, which has wear, rust, and corrosion problems.
The lubricant is also ready to provide the engine best power performance. You don't need to change the oil frequently when you use Super S lubricants.
On the contrary, Super S lubricants are designed in a way that you can easily use the lubricant in both cold and hot weather areas. It reduces extreme heat temperature from your vehicle, which keeps the engine cool down to run without causing firing problems.
Super S Oil Products
You will discover Super S oil products from both online and offline shops. This brand is popular and has a wide range of demands. However, they have different types of oil products. So, you can consider your own Super S oil products from the list.
Engine oils
Hydraulic Oils
Gear Oils
Chain & Mixing
Synthetic Oils
Miscellaneous
These are the popular oils that they produce. These oils are available in the shops. You can consider any of them based on the recommendation of your vehicle's oil system.
Super S Hydraulic Oil
The manufacturer of Super S designed hydraulic oil for vehicle brakes and gear systems. It also protects your vehicle engine from rust, corrosion, and oxidation inhibited. However, it is designed with an anti-foam additive which ready to protect the engine strongly.
Super S always maintains quality and provides customers with quality products. Hydraulic oil is not different. From Super S hydraulic oil, your vehicle gets maximum wear protection, corrosion-free performance, rust-free, and so on.
FAQs (Frequently Ask Questions)
Q: Who owns Smitty's supply?
Answer: The answer is ED Smith. Today, ED Smith is the sole owner of Smitty. Smitty is a brand name, and now ED Smith owns the brand and supplies the oils all over the world.
Q: What does S mean in engine oil?
Answer: S means Spark (Petrol engines). S is also a word connected with Smitty or Super S oil brand. You will see S signs in so many oil sections, specially in Super oil, like C Combustion (for diesel engines, S is also used for Petrol engines.
Q: What is SP-grade engine oil?
Answer: SP grade engine oil is the most advanced performance synthetic oil. This type of oil builds with high-quality additives. It also allows the vehicle to provide the customer's longest performance. The majority of the users choose SP grade engine oil to get longer performance.
Q: Can I use SN oil instead of SH?
Answer: SN always provides a higher level of performance than all other S types of oil. So, you can use SN oil instead of SH. However, you won't get many advantages to using SN oil instead of SH. So, it would be better for you to use SN oil for your vehicle because of getting better performance.
Q: What does the S stand for in SN oil?
Answer: S means Spark. S oils always come with advanced technology and high-quality additives. On the other hand, SN oil always provides vehicles with high-performance. The Spark also works for petrol engines and provides longer performance.
Final Words!
Super S motor oil is widely popular among drivers. However, this oil is much popular in North America, and the manufacturer supplies the oil in over 50 countries. The oil is popular because of its quality additives, which protect the engine from wear and corrosion as well as rust problems. The advanced technology and these quality features make the engine strong and help the engine to provide long-time performance.
Read Also: Mesamoll Oil