An oil change pit is a type of pit used for changing oil. The automobile experts used this type of pit for changing bike oil, car oil, truck oil, and other vehicle oil. Undoubtedly, the pit of the oil changer is essential to care for your car and change the oil.
It is a regular thing to change the oil in your vehicle. But do you know how much money you need to spend to change the oil-using pit? Or which thing do you need to keep in mind when you want to assemble an oil-changing pit in your garage? Read the following text to get a clear answer.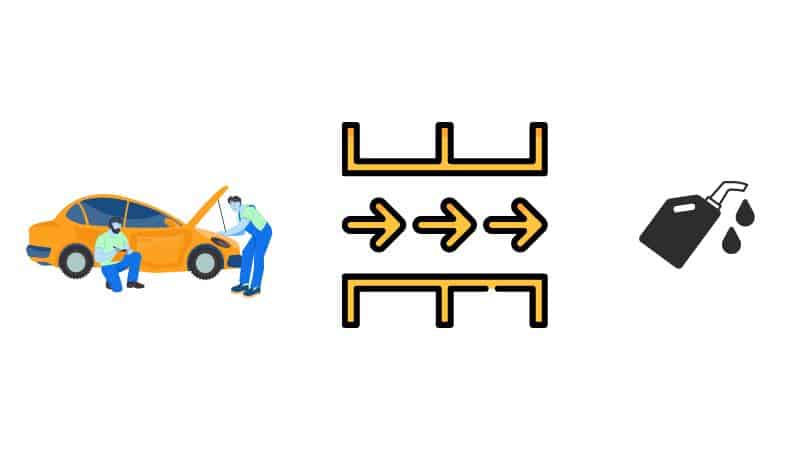 What Is Oil Change Pit?
An oil change pit is truly important and essential for a vehicle. To use the pit, you can hassle-free change the oil from any vehicle. It allows you to change the oil in your vehicle without damaging any of the parts of the vehicle.
On the contrary, you need to spend less than $2000 extra for the oil change pit cost. It is an invisible amount, and you may need to spend more or less money to assemble the oil-changing pit.
Pit system is ready to provide a one-stop-shop auto service, which helps the technician save time in changing oil. Moreover, they also get a free quote from pit equipment.
Read Also: Overdue Oil Change Symptoms
Which Thing Should You Keep in Mind Before Assembling Oil Changing Pit?
If you want to install a pit in your garage or house floor, you must remember some important points. It is challenging because you need permission and maintain some other points.
First, you need to get permission from your local authority to assemble the pit. After taking permission, you must remember the following points to assemble a pit in the garage.
Keep in mind that a pit would run only less than $2000 extra, which you keep in your pocket
Make sure that you are digging the hole, pouring footers, and laying the block with the proper measurement
Remember to wear safety equipment to hassle-free assemble the pit.
Use a safety barrier around the pit holes because your kids or old person fall on the pit
Try to consider one pit oil changer so that you can easily maintain the pit
Oil Change Pit Equipment
You must collect some equipment when installing a pit to change the oil for your vehicle or car. To collect all of the equipment, you will hassle-free install the pit in your area. Which equipment do you need to consider to install the pit? Check out the following equipment and collect them.
The oil pan on the trolley
Oil drum with extending funnel
Wet-pit
The mobile steps
Gearbox jack
These things you have to keep in your pit change areas so that you can completely make the oil put change.
How to Install Oil Change Pit ?
Before installing the oil pit change, you should check out the above equipment, which you need to collect. Do you collect them? Let's install it without delay.
Step 1: First and foremost, you have to select a perfect place. You should select a place where people only go occasionally.
Step 2: After selecting the place, you need to dig, pour footers, and lay the block with perfect measurements.
Step 3: Dig the hole a little bit higher so you can easily change the oil. Or, you will also dig the hole maintaining your vehicle measurement.
Step 4: You can put a sum pump pit and pipe for any water to the outside
Step 5: Use concrete around the hole so that it is safe for sliding, and change the oil
Step 6: Set up other basic things so that you can comfortably slide the car and change the oil from your car
Of course, these 6 steps are effective and allow users to install a pit without making mistakes. Make sure that you wear protective things before assembling the pit.
FAQs (Frequently Ask Questions)
Q: How deep are oil change pits?
Answer: The pit should be 4 feet underground, and the technician. It is a standard measurement. You can measure the depth of the pits based on your vehicle type because different vehicle brands come in different sizes.
Q: How wide is an oil change pit?
Answer: The dimension of the pit should be 33″ W X 44″ H. 30 to 35 are the standard wide measurement that you can follow. But, it would be better for you to manually measure wide for the oil change pit. You can measure the width of the pit based on the vehicle type.
Q: What is a zip pit?
Answer: The zip pit is a pre-molded, above-grade lube pit that enables technicians to work both top and bottom. It is another variant of an oil change pit. On the other hand, it is ergonomically effective, and its custom fabrication ensures comfort and durability.
Q: What is included in an oil change?
Answer: When an expert changes the oil, he changes the motor oil from the beginning. They use synthetic, conventional, high-mileage, and others based on the motor needs. When the technicians change the oil, they may also ask for the oil paper so they can change the oil comfortably.
Wrapping Up!
If you want to assemble and change the oil pit in your garage or house floor, you must maintain some principles. Based on your need, you need to spend $1500 to $2000 because you need to purchase several pieces of equipment to install your pit completely.
However, you have to take permission from your local authority. On the other hand, you need to wear protective equipment when you are going to assemble a pit in the garage. Overall, you can read out A to Z information from the above section to get a clear concept and assemble the pit.
Related: