The John Deere D140 has a 655cc Briggs & Stratton 40 air-cooled gasoline 2-cylinder. And it can deliver 22 hp (16.4 kW) of power. Most people don't know about the John Deere D140 oil type and capacity. You can adequately maintain your John Deere D140 engine by using the proper oil type and capacity.
Moreover, changing its oil in time is essential to keep your John Deere running efficiently. This blog post will describe its maintenance schedule, oil type, and capacity. We also will tell you how to change your oil on John Deere D140 oil perfectly and efficiently. So, don't delay, let's learn: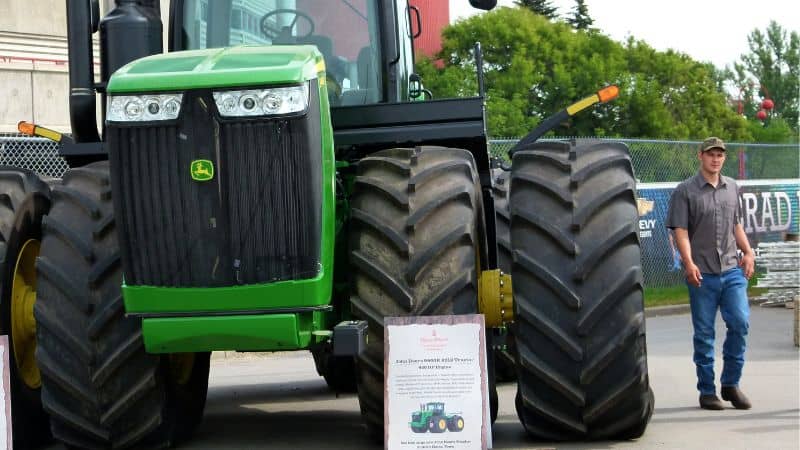 John Deere D140 Oil Type:
John Deere recommends using 10w30 oil grades in all gasoline-powered engines. "W" indicates that this oil is best to use at low air temperatures, and it's proven. Besides this, a 10w30 oil weight is viscous at a negative 4°F temperature. Also, 10w30 motor oil is a 4-cycle, multi-viscosity oil engineered to withstand high ambient temperatures. The oil is durable to ensure your tractor's engine stays well-lubricated.
In climates where temperatures don't drop below freezing, John Deere states that 15W40 oil "provides excellent engine performance and protection ." It means for temperatures that don't drop below 5°F; you can use 15w40 oil.
For people living in colder climates, 5W30 oil provides the best performance in weather between -22° and 140°F. In other words, John Deere also recommends using its own engine oil brand. The company says its oils contain additives and performance enhancers. However, it can reduce corrosion and keep internal engine parts clean. Other motor oil brands will also work well if they resist sludge and operate within the specified temperature range.
John Deere D140 Oil Capacity:
Oil capacity is the amount of fuel the John Deere D140 can store. This is important because adding too much oil can damage the engine. In contrast, using too little oil can cause poor engine performance. Keeping the correct oil level is essential to ensure your D140 lawn tractor runs smoothly.
Nevertheless, the oil capacity of John Deere D140 is 1.9 L (2.01 US. qt, 1.67 Imp. qt). In fact, it uses the oil filter with the following dimensions: O.D. 3″, Height 2-5/16″, Thread 3/4″-16, 25 Micron. John Deere's OEM part number is AM125424.
John Deere D140 Engine Oil Type:
John Deere released the D130, another model of D140 tractors, two years after its first release. Also, they changed their engines to the Briggs and Stratton 44. The difference between these two engines is their bore and stroke of 79.0 mm and 73.0 mm. For this engine, you must use a fuel capacity of 15.1 liters and an oil capacity of 1.9L. For your 2013 John Deere D130, you can use SAE 15w40, 10w40, and 5w30 oil grades.
John Deere D140 Oil Change:
If you want to change your John Deere D140, you need the tools:
Oil drain pan
New oil filter
The wrench
Funnel
New oil
To change the oil, you should follow the below steps: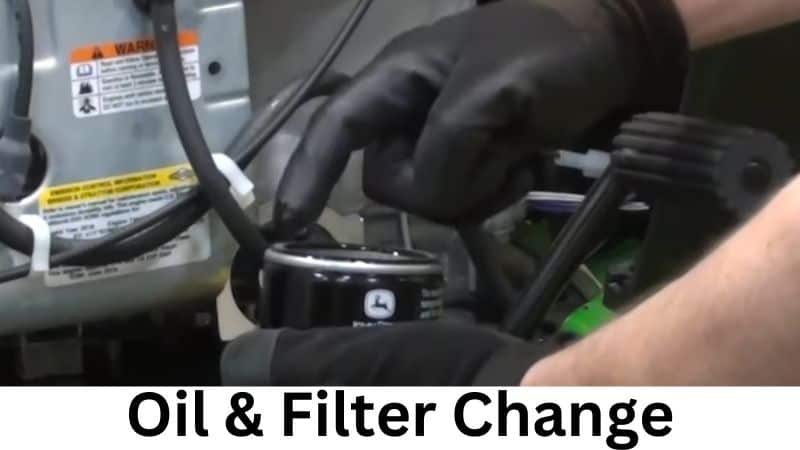 Step 1.
Park the lawn tractor on a flat surface. To warm the oil, you should run your engine for a few minutes, and it's recommended.
Step 2.
Shut down the engine, then turn the key off.
Step 3.
Put the oil drain pan under the oil drain valve on the bottom of the engine. Generally, you should remove the drain valve and allow the oil to drain into the pan.
Step 4.
After draining your oil completely, you need to replace the drain valve.
Step 5.
Now, remove the old oil filter with a wrench. Lubricate the gasket with some fresh oil in the new oil filter.
Step 6.
Install the new oil filter into the motor by hand, then tighten it with an adjustable wrench. Pour your engine with new oil through a funnel.
Step 7.
Ensure you add the correct amount of oil according to the manufacturer's instructions.
Step 8.
Replace the oil filler cap. Then, start the engine and let it run for a few minutes. Finally, stop your engine and check the oil level. And you have done.
John Deere D140 Price:
In 2011, the original cost of a new John Deere D140 tractor was $1,999. In 2015, after the release of the second model, the actual price of that model was close to the same price. Today, depending on the manufacture year and current tractor condition, a used D140 price can go between $1,500 and $3,500.
John Deere D140 Maintenance Schedule:
Common sense will help you maintain your machine. Additionally, if you use your engine in the way of excessive heat, dust, or terrain, you should increase the frequency of service. Though the John Deere machine is built with quality parts, they have a limited life like every machine.
But you can efficiently service your machine by using a John Deere maintenance kit or service kit. Or, to run your machine for longer, you need to follow a maintainable schedule. Ultimately, it would help if you serviced your John Deere D140 yearly or every 100 hours (whichever comes first).
FAQ (Frequently Asked Questions)
Q. How much oil does a John Deere D140 need?
The John Deere D140 has transaxle brakes, an open operator station, and a fuel tank of 15.1 liters (4 U.S. gal; 3.3 imp. gal). Thus, it has a 9.1 liter (2.4 US gal) gasoline tank for the California version. It also has manual steering. In other words, this tractor holds 1.9 quarts of oil.
Q. What oil does a John Deere lawn mower use?
For all John Deere lawn mower engines, you need to use 10w30 oil. On the contrary, you can use 15w40 oil for diesel engines and lawnmowers. Hence, when you change your oil, you need to use 2 quarts of oil each time. When you need to repair or maintain your lawn mower, we recommend using original John Deere parts for guaranteed quality.
Q. Can I use 5W30 instead of 10W30 in my John Deere lawn mower?
Yes, you can use it. 5w30 and 10w30 are both 30-weight oils and contain the same thickness when your engine is at operating temperature. 5w30 grades are better because it thicken less during the cold. Thinner oil gets to the upper end faster.
The myth says 5W oil is thinner when hot, but it's wrong. Based on additives used in the 1970s and '80s that wear out quickly, causing thinners across the range. Modern oil standards are rigorous. If it says it's a 30-weight, make sure it's a 30-weight rest.
Q. What type of oil filter is used in d140?
Depending on engine size and shape, you should use an oil filter for your John Deere D140. Also, before using an oil filter, you should use the same part number as the oil filter. Nonetheless, for your John Deere, the oil filter brand and part number are:
Kawasaki: 49065-3076, 49065-2077, 49065-7002, 49065-7007.
Honda: 15400-679-023, 15400-POH-305, 15410-MJ0-405, 15410-MJO-004
Final word
On the other hand, to get the best performance, you should use the proper John Deere D140 oil type. Most importantly, changing your oil frequently is essential to keep this lawn mower running efficiently. As this article describes, changing your John Deere oil and oil filter is easy. Before using the correct type of oil, you should know the oil capacity and oil change interval.
You can get the oil change frequency information on your owner's manual. Overall, this article provides more information about the John Deere D140 oil type. So, we hope after reading this article you will be satisfied. Thanks.