CNG oil is crucial for all CNG-powered vehicles because it protects the engine from premature wear. High-quality 20W50 grade CNG engine oil is best for various ranges of CNG automobiles. Right engine oil for CNG and other vehicles keeps contaminants away from engine valves and ensures minimum metal parts wear.
It smoothes valve operations and increases engine performance. Actually, this is important not only for safety but also for improved performance. However, to know more about CNG oils in detail, keep reading this article: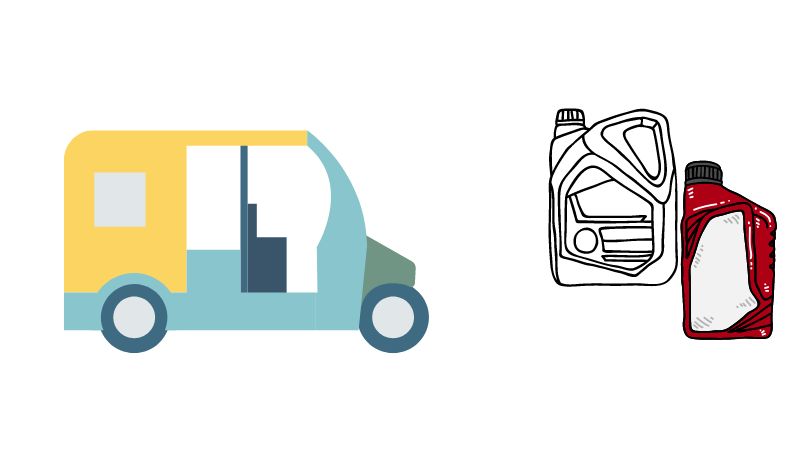 About Of CNG Engine Oil
CNG (compressed natural gas) oils are designed with new low ash additives and refined high viscosity index base stocks. Also, it's mixed using world-advanced procedures that provide better oil than others.
Their particular structure offers protection against carbon deposits and wear. These products are adequate for the lubrication of motors using CNG. Besides this, the purpose of gas engine oil is it's perfect for light-duty cars running on CNG. Likewise, it has properties of anti-rust, anti-wear, and anti-corrosion.
Manufacturer Of CNG Oil:
The world's largest natural gas producer is Russia's Gazprom, which produced about 18.2 trillion cubic feet of gas in 2021. Most of the world's largest natural gas producers are global energy giants. Most of the giant oil companies manufacture CNG oil worldwide. But among them, Servo, Mobil, and Gulf companies are the best CNG oil manufacturers. Some best CNG oils are Havoline, Mobil Special, Gulf CNG, and Maxall 20w50 CNG oil.
Importance Of CNG Engine Oil:
You should use CNG engine oil to protect your engine from unnecessary wear. Constant valve motion and other metal aspects generate friction. So it can reduce this friction because of quality features. Manufacturers add a white base oil layer and water-based CNG oil to reduce it. This oil can remove the deposits from your engine core to improve your vehicle's performance.
Application Of CNG Engine Oil:
This oil is suitable for cars fueled with CNG, like CNG engine buses manufactured by Benz, Shanghai, Dongfeng diesel engines, etc. Basically, this CNG oil is approved for Cummins, Benz, and Shanghai natural gas engines in China.
CNG Engine Oil Specifications
| | |
| --- | --- |
| CNG Engine Oil Common parameter | Value |
| SAE viscosity grade | 15w40/20w50 |
| Kinematic viscosity (100°c), mm2/s | 14.99-18.5 |
| API | SJ, SG, SF |
| Flash point (COC), °C | 227-247 |
Check:
Best CNG Oil:
There are huge products on the market, but consumers must pick water and white oil-based products. Furthermore, API CF compliance is essential for customers' CNG engine oils. However, Divyol CNG oil is highly preferred because it contains all the requirements. However, let's discuss some best CNG oil which is available in the market:
Valvoline CNG Oil:
Valvoline Cng oil is a medium ash motor oil prepared with developed paraffinic base stock and additives. Additionally, it can offer extraordinary lubrication of gaseous fuel engines. The oil's ash content is minimized to decrease the "hot spots" formation that causes the expanded Nox levels and spur poisoning.
Recommended for use in CNG engines like delivery trucks, city buses, and other services, LNG or propane. Don't use this oil in Detroit 2 strokes diesel engines and hypoid differentials. Ultimately, before using the CNG oil in your vehicle, you should check your manufacturer's specifications.
Shell Helix 20w50 Oil:
Shell Helix 20w50 oil helps to offer excellent protection for high-mileage and older engines. Due to its high viscosity, it can decrease oil consumption. Moreover, it meets the SPI SL/CF specifications. You can use this Shell Helix 20w50 oil as a CNG oil.
Veedol CNG Oil:
Veedol CNG oils provide increased proper lubrication under different weather conditions, like extreme winter and summer. The most crucial matter is that this oil is primarily used in bus engines. Due to its anti-rust, anti-wear unique formulation additives, it ensures complete emerging protection.
The superior nitration and oxidation resistance provide long extraction with high requirements. Specifically, you can use this Veedol CNG oil in buses, cars, taxis, and rickshaws running on CNG.
Motul CNG Oil:
Motul CNG oil is a specially designed engine oil that comes for 3-wheelers. Because of lower oil spending, it can reduce exhaust gas emissions. Usually, this high-performance oil is developed essentially for alternative fuel CNG and LPG engines.
Due to high-quality base oils and unique additives, it can provide engine protection and amazing detergency. To acquire extended engine life, it protects your engine against corrosion. The specific wear chemistry ensures you will control the wear.
Typically, it enhances your engine's thermal stability. You can choose this CNG oil for your vehicle for a 10 000 km extended drain interval. You can use this CNG oil in cars fitted with petrol engines without any problem.
Can I use Mobil Delvac in a gas engine?
Mobil Delvac is a diesel engine oil that helps you to increase engine life. Even so, it can increase your confidence to develop your business.
In fact, this oil exceeds OEM requirements and delivers high performance in on- and off-highway engines. So, you may use this Mobil Delvac in your gas engine if it fulfills the API SN spec.
Final Word:
In summary, CNG oil is perfect for heavy-duty engines that run on gasoline and natural gas. Due to the unique demands of these engines, you should use special engine oils. The reason is that special engine oil can prevent extreme deposit formation & valve recession.
CNG engine oil can decrease oxidation and nitration to improve your vehicle's performance. However, we are trying to give helpful information about the CNG engine oil. We hope now you know its specification, properties, and more. Thanks for reading with patience.