Marine engines are the heart and soul of your boat. It powers and fuels all your water-based adventures. Every boat owner should ensure their boat's marine engine is maintained correctly. The best 2-stroke boat motor oil only allows you to enjoy your water adventures fully.
But choosing the best 2-stroke oil can be challenging. If you don't use quality marine oil, it can give you poor performance and short life of your marine engine. However, we will discuss 2-stroke or 2-cycle boat motor oil and the best outboard motor oil below. So, please stay with us.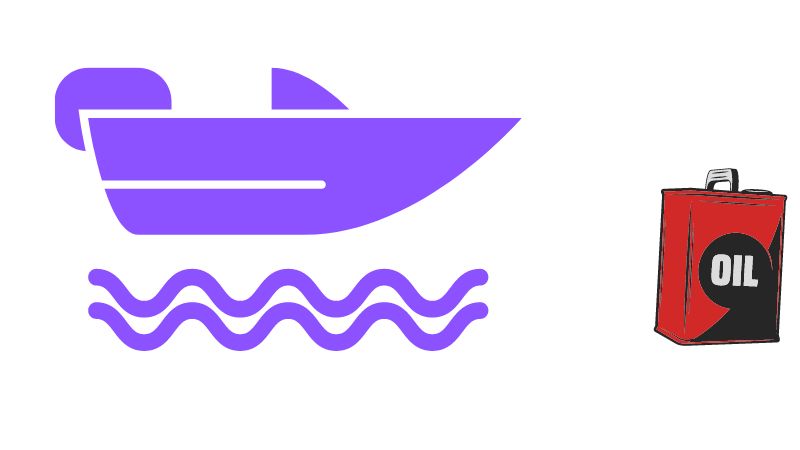 What Is 2-Stroke Boat Motor Oil:
Two-stroke oil is also known as 2T oil, 2-cycle oil, and 2-stroke oil. However, this oil is a specific engine oil for two-stroke engines.
Marine 2-stroke engine oil is high-quality board motor oil. This is mainly designed for air-cooled and water-cooled 2-stroke cycle engines. A 2-stroke oil combines with fuel to lubricate engine components, containing elements that promote combustion.
Your engine's health depends on choosing the right 2-stroke marine engine oil. 2-stroke engines need maximum lubricity and strong detergents to support combustion. This type of oil keeps engine elements clean of harmful deposits.
To avoid oily deposits and high emissions, you must use two-stroke board engine oil on spark plugs on modern two-strokes. Otherwise, you can face oiling problems.
The 2-cycle board motor oil is certified by National Marine Manufacturers Association (NMMA). This oil is recommended for use in low-to-medium horsepower engines. Let's see its applications.
Application
Best for outdoor marine engines
Snowmobile
le Private watercraft
Scooters, Motorcycles, and All Terrain Vehicles
Lawn-care tools (weed trimmers, mowers, leaf blowers)
2-Stroke Boat Motor Oil Ratio:
If you're buying a new outboard, knowing the correct mix is ​​easy. It's because you can find it in the original owner's manual. But if you're buying a second-hand outboard, it means the engine conditions are not like new. Unfortunately, if you're buying an old outboard, you should use the correct mixture.
The exact 2-stroke oil ratio depends on your manufacturer's instructions, as each engine may have different requirements. The two-stroke mixture ratio depends on your engine's make and model. Your mixture needs to be as accurate as possible.
Oil and gas compositions are written as ratios and represent oil parts and gasoline. Accordingly, you can get the mixture ratio in 2-stroke oil in the machine operator's manual. Generally, if you know the age of the machine but can't identify which one, do the following:
Most handheld elements manufactured before 2003 require a 32:1 ratio. On the contrary, after handheld elements, 2002 needed a 40:1 or 50:1 ratio. And most board engines require a 50:1 ratio.
2-Stroke Outboard Oil Vs. Regular Oil
2-stroke outboard oils come in various viscosity levels, including SAE 15. But regular motor oil has a constant viscosity rate.
Mainly, 2-stroke outboard oil suits all engines, like regular vehicles, outboard, tractors, and lawnmowers. In contrast, regular oil is only suitable for the old model engine.
2-stroke outboard oil lubricates your engine better than any other lubricant. Yet, it also provides you with the best experience of running that engine.
You will get the best service from your engine. But regular oil doesn't lubricate your machine because it doesn't contain the required additives to protect your outboard engine. Generally, this will cause wear and tear between engine parts.
You can use 2-stroke oil in all 2-stroke outboard, marine, and recommended engines. Subsequently, Regular oil is only suitable for older model engines. Outboard oil price is more than regular oil. For outboard oil, you should spend 50-100 bucks and 30-35 bucks for regular oil.
Best 2 Stroke Outboard Oil
Every oil is only ideal for some engines. Electronic injection and older carbureted engines use standards different from modern outboards. Multiple machines can use some oils, and others are particular to a single engine type.
You must choose an oil that fulfills your engine's requirements, budget, and operating conditions. You can follow our best 2-stroke outboard oils list below:
Sierra Blue Premium TC-W3 2-cycle:
As with many products, engine oil is reasonable when purchased in bulk. If you use a lot of oil, high-grade marine motor oil may be just what you're looking for.
The packaging oil is a high-performance lubricant compatible with electronic injection, premix, or direct injection motors. It provides quality performance for all domestic and imported outboards. That versatility makes this oil an ideal bulk purchase for a boating group with various needs.
Yamaha Yamalube 2M Outboard 2-Cycle Oil
Yamaha has been aimed at entry into the direct fuel injection lubrication market. And that you can use it in large and small outboards and any air liquid-cooled 2-stroke gasoline engine. For Yamaha outboards, this oil will decrease extra smoke and improve performance.
After using this oil, you feel peace of mind that you are using OEM oil for Yamaha motors. Due to its high level of anti-rust protection and versatility, it's suitable for all DFI engines. Note that Yamalube is unsuitable for 2M WaveRunner lines or other personal watercraft.
Johnson Evinrude Marine XD100 Oil:
Evinrude E-Tec outboards are the most modern and famous marine engines on the market. They offer a unique high-performance combination, low emissions, and low fuel consumption.
Johnson oil especially comes for use in E-Tec outboards. It protects against wear and friction with minor explosion deposits. Notably, this clean-burning oil is almost entirely ashless, smokeless, and odorless. You can use XD100 outboard 2-cycle oil in any DFI outboard, but it is best suited for Evinrude's E-Tec motors.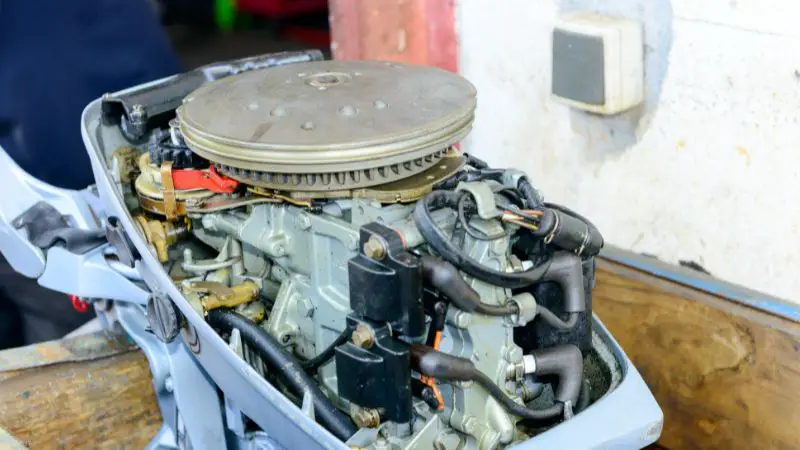 FAQ (Frequently Asked Questions):
Q. Does a 2-stroke boat motor take the oil?
Accordingly, 2-stroke outboards usually have an external oil tank to feed the oil and fuel mixture into the cylinders. Typically, 2-stroke engines take oil, and you should maintain the oil tank level, replacing the oil as it is used. Besides, 2-strokes are lighter, smaller, and less complex than 4-strokes; they have fewer moving parts.
Q. How much oil does a 2-stroke boat motor use?
On your 2-stroke boat motor, add 50 ml oil to every 5 liters of fuel. Using this ratio results in less spark plug fouling and smoke. For older Suzuki outboards, we recommend running 50:1 as the information we provided is for current model 2-strokes.
Q. What is the best 2-cycle oil for boats?
Many oils are on the market with different properties and weights for various applications. You should know the best boat oil to make life a little easier. Well, we are going to give you some of the best oil names for you. Have a look:
Quicksilver 4-Stroke EFI Marine Oil
Sierra 25W40 Boat Oil
Lucas Oil 2-Cycle Oil
Yamaha Yamalube 2M Outboard 2-Cycle
Final Word:
There are many 2-stroke engine oils, but choosing the right one for your engine is essential. Usually, you can not use 2-stroke boat engine oil in a two-cycle engine application. Again, a 2-stroke motor oil isn't suitable for marine engines. And it will not last as long as a marine 2-stroke oil.
Ultimately, using the wrong oil in your machine can disrupt combustion and produce smoke. Ergo, be careful about the truth. Check the manual to select the correct lubricant for your boat engine.