In the automobile industry and for machinery lubrication there are lots of engine oils. Different vehicles need different engine oil. All types of engine oil are not suitable for every engine. That's why using the right engine oil for your car is very important.
However, Total and Shell are the two most reputed brands. But Total vs. Shell: You may wonder which engine oil is best. The total has engineered a range of engine oil to provide high protection and efficiency.
In contrast, Shell is another engine oil brand that provides quality engine oil than other brands. However, to know more information about both oils. Please stay with us.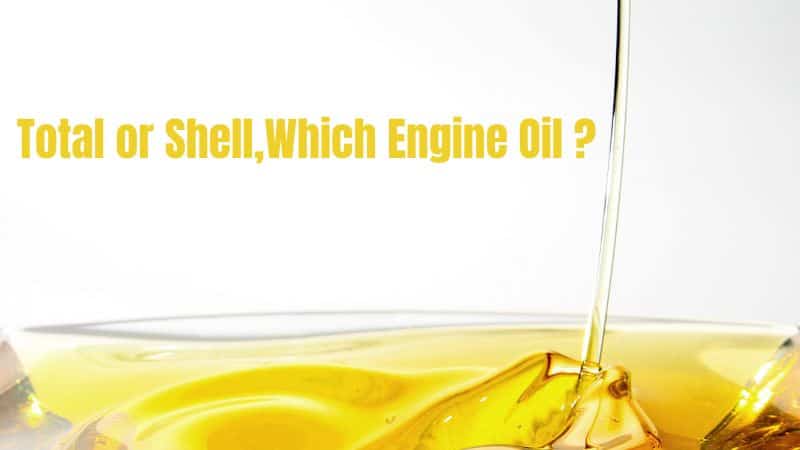 About Of Total Engine Oil:
TOTAL is one of the world's largest manufacturers of quality lubricants. They provide high-performance synthetic engine oils, hydraulic oils, transmission oils, and more greases. Also, they provide everything a customer needs to protect the car's engine and different machinery lubrication.
Leaders of the global automotive sector, TOTAL always provides top-performance engines with better safety and improved fuel efficiency.
Their TOTAL QUARTZ engine oils feature cutting-edge Age Resistance Technology. This oil keeps your engine cool and saves against mechanical wear and corrosion. The improved fuel efficiency provides a smooth ride for miles and miles without any problem.
The Quartz range also includes Quartz with ART which enhances the engine's ability to tolerate mechanical aging. Moreover, this will extend the life of your machine and reduce maintenance costs.
Quartz with ART is resistant to heat and cold, maintaining a compatible viscosity across different temperatures.
Total Engine Oil Types
Total Quartz Engine oil :
Quartz is the gasoline segment engine oil of total. Quartz has Mineral, Synthetic & as well as Fully synthetic base premium Hybrid engine oil also. Let's see these series of oils:
Quartz 9000:
Quartz 9000 synthetic oil improves the engine's performance and protection. Thus, it also delivers TotalEnergies' superior engine cleanliness. Generally, Quartz 9000 is long-lasting engine oil. It can extend the interval between oil changes.
Quartz 7000:
This oil is also a synthetic-based oil that provides improved driving comfort. Typically, it gives you a high level of cleanliness and safety of the engine.
Quartz 5000:
Quartz 5000 is mineral oil; you can use it in older and newer vehicles.
Quartz 3000:
Only you can use this Quartz 3000 mineral oil for your older vehicles. And you can't oil others from its range.
Quartz INEO:
Quartz INEO is a synthetic oil with pollution control, mainly used with diesel engines. In particular, it gives outstanding engine cleanliness and supports particulate filter performance.
Total Rubia Engine Oil :
Total Rubia is very popular in the diesel motor oil segment. Rubia has also a variety series of oil for medium heavy duty and high-speed diesel engines like Rubia Tir 7400 15W40 or 20W50. On the other hand, Rubai works 1000 15w40 is very popular for off-road diesel engines.
Check: 15W40 Vs 20W50
Who Makes Total Quartz oil?
The Headquartered of Total oil is in France. Total Specialties USA, Inc. is the Americas Division part for the Marketing & Services Branch of the Total Group. Total Specialties USA, Inc. announced multiple lubricant products, including TOTAL QUARTZ synthetic engine oils. Currently, Total oil company changed its brand name total to TotalEnergies.
About Of Shell Engine Oil:
The global company of Shell distributed multiple petroleum products. Hence, among the company's various specialties, Shell is a quality lubricant producer. The Shell lubricants include Spirax, Rotella, Omala, Morlina, and more. Generally, Shell's op-selling motor oils are Shell Rotella, Shell Rimula & Helix.
Rimula Premium oil is a heavy-duty, high-performance gasoline formulated oil for medium and large fleets. This Diesel motor oil is for turbo- and non-turbocharged engines also. On the other hand, Rotella T series motor oil is suitable for use in diesel or gasoline engines.
Check: Rotell T5 Vs T6
Comparison Between Total VS Shell
Shell is the number one global lubricant supplier, delivering market-leading lubricants to customers in over 100 countries. Shell engine oil brings world-class technical awareness to the products.
Shell's brand is ranked #496 on the list of top 1000 brands worldwide as rated by Shell's customers. Their current market cap is $63.46B.
On the other hand, Total's brand is ranked #- in the Global Top 1000 Brands list, as rated by Total's customers. Their current market cap is $127.02B.
On the other hand, Total offers you a variety of choices when it comes to lubricants. Using state-of-the-art synthetic technology, they provide the best products for their customers.
Is Total the same as Shell?
Both are good in quality but are different in their fame and products. Market reports indicate that Shell is the world's number one lubricants supplier worldwide. TOTAL is a French-based company, while Shell is an American firm.
Total Excellium 95 Reviews:
Total Excellium was developed over two years to build a formula that cleans your engine kilometer after kilometer. This fuel product also provides durability and fuel consumption and can improve your engine performance. Ultimately, this innovation helps prevent up to 93% of deposit build-up in engines.
Damage caused by build-up was the reason for the improvement of Total Excellium fuel; Because today's compact, impure engines are more sensitive than ever. During fuel explosions, not all molecules are entirely burned.
In addition to higher fuel consumption and lower engine power, it will lead to higher CO2 emissions. As part of the fight against deposit build-up, Total Exileum uses particular additives like detergent forms that prevent clogging. Using additive-rich, premium fuel, the Total Exile has become the key to maintaining a modern vehicle.
Total Engine Oil Vs. Castrol:
The British oil company of Castrol markets automotive and industrial lubricants. Furthermore, they offer extensive greases, oils, and similar products for maximum lubrication applications.
The Castrol name was originally the name of the company's motor oil brand. But the company eventually changed its name to Castrol. It's because when they notice their product name becoming more famous than the original company name, they change it.
In contrast, Total provides lubricants for both old and new vehicles, with light and heavy components without any problem. If you change this oil after one year, there is not any problem you notice.
Since this is the most valuable brand worldwide, think about something other than quantity, only their quality. Excellent lubricating oil with a fuel economy system and extended drain interval.
Mobil Vs. Shell Engine Oil:
Mobil provides full synthetic engine oils formulated to keep your engine running like new. Their oil gives outstanding wear protection, overall performance, and cleaning power.
Mobil meets or exceeds the requirements of the industry's most demanding standards. Mobil technology comes to provide the best performance for many vehicles, including high-performance cars.
Alternatively, Shell top-tier motor oils are formulated using the unique Shell PurePlus technology. Their motor oil actively helps keep your engine clean. Active cleansing technology is a fantastic feature to provide a high level of cleaning and safety.
So both oil brands are best in their place. But before choosing any brand, check your manual to know which brand will be best for your engine.
Total Quartz 9000 vs. Castrol Edge
Total Quartz 9000 is fully synthetic engine oil suitable for all modern gasoline engines. Most importantly, you can use this multi-valve technology oil in engines with or without a catalytic converter. Mercedes, BMW, and Audi are three automobile manufacturers that approved this engine oil.
Small turbocharged engines can't tolerate rough driving conditions. To protect them, Total Quartz 9000 provides ultimate fluidity at low temperatures. Additionally, this oil also has fantastic sludge reduction ability. Total Quartz 5w30, 1 quart of oil price is $12.95.
On the other hand, Castrol engine lubricant has come a long way with success and innovation. Over the decades, there have been overwhelming statements from manufacturers. They provide fully synthetic Castrol edge oil for new, higher, more minor horsepower engines.
Therefore, this oil will increase engine performance and protection for an extended period. Yet, the new fluid titanium tech transforms the molecular fluid structure during high pressure.
It performs ten times better at high temperatures based on tests done through sequence API SPI vs. IVA limits. Still, in wear protection, it is also six times better than other synthetic oil brands.
Final Word:
After comparing much information between Total vs. Shell, you may notice that both brands are best from their place. Moreover, the shell gives you one of the best formulations for your automobile. By choosing shell engine oil, you can increase your engine performance.
TOTAL's vehicle product range gives every automobile a wide choice of lubricants. Their oils especially come for new and older vehicles that modern synthetic oils can't tolerate. However, after reading this article, we hope you can understand these two brands. Thank you.
Read Also: Delo Vs Rotella Vs Delvac